Equinix
Company

Rauxa (formerly ThoughtMatrix)

Year

2010 to 2012

Responsibilities

Design Lead, UX, Visual, Research, Client Relationship
Equinix was founded in 1998 by two datacenter engineers from Digital Equipment Corp. It rapidly grew into an international company, and by 2007, was one of the largest datacenter operators in the world. By 2012, they were operating 99 datacenters in thirteen countries and four geographical regions.
Their website was a dark, hard to navigate brochureware site that didn't project the image of an industry leader. It didn't deliver meaningful leads, and it didn't engage current customers by providing a reason for return visits. Bounce rates were high, and important content either didn't exist or was difficult to find.
We created a dramatic overhaul of the site, and it became the cornerstone of Equinix's marketing strategy. I led the Information Architecture, Interaction and Visual Design. I shared the client relationship and research responsibilities with other team members.
It was the Research
I credit much of the success of this project to the in-depth research that our team performed — which touched all aspects of the business, competition and site users. This three month effort yielded the strategic insight and user empathy we needed to create a successful solution.
We started by interviewing business unit stakeholders, with discussion guides that covered a wide range of topics. We designed the interviews to draw out the nuanced cultural, brand value and marketplace challenges that were unique to the interviewee's business unit, geographical region or industry vertical.
Interviews were also conducted to discover user perception and motivation. We discovered the key drivers for new leads, why customers choose to expand with Equinix, sales objections and users' motivations while visiting the site.
Finally, we conducted an exhaustive competitive review, covering 15 competitors in three regions. Our research areas covered:
Creative and Brand Presentation
User Experience, Information Architecture and Usability
Search Optimization and Usage of Social Media
Content Strategy and Thought Leadership
Lead Capture and Marketing Automation
Recommendations
Our research led us to some key insights about the industry and how to leverage all of Equinix's key advantages. Five opportunities were revealed:
Competitors' sites had little visual differentiation
Datacenter operators weren't leveraging Social Media effectively
Few competitors were offering forward-thinking, Strategic Thought Leadership
Equinix wanted to use the site as a key lead generation tool
Each region and vertical had very different messages to communicate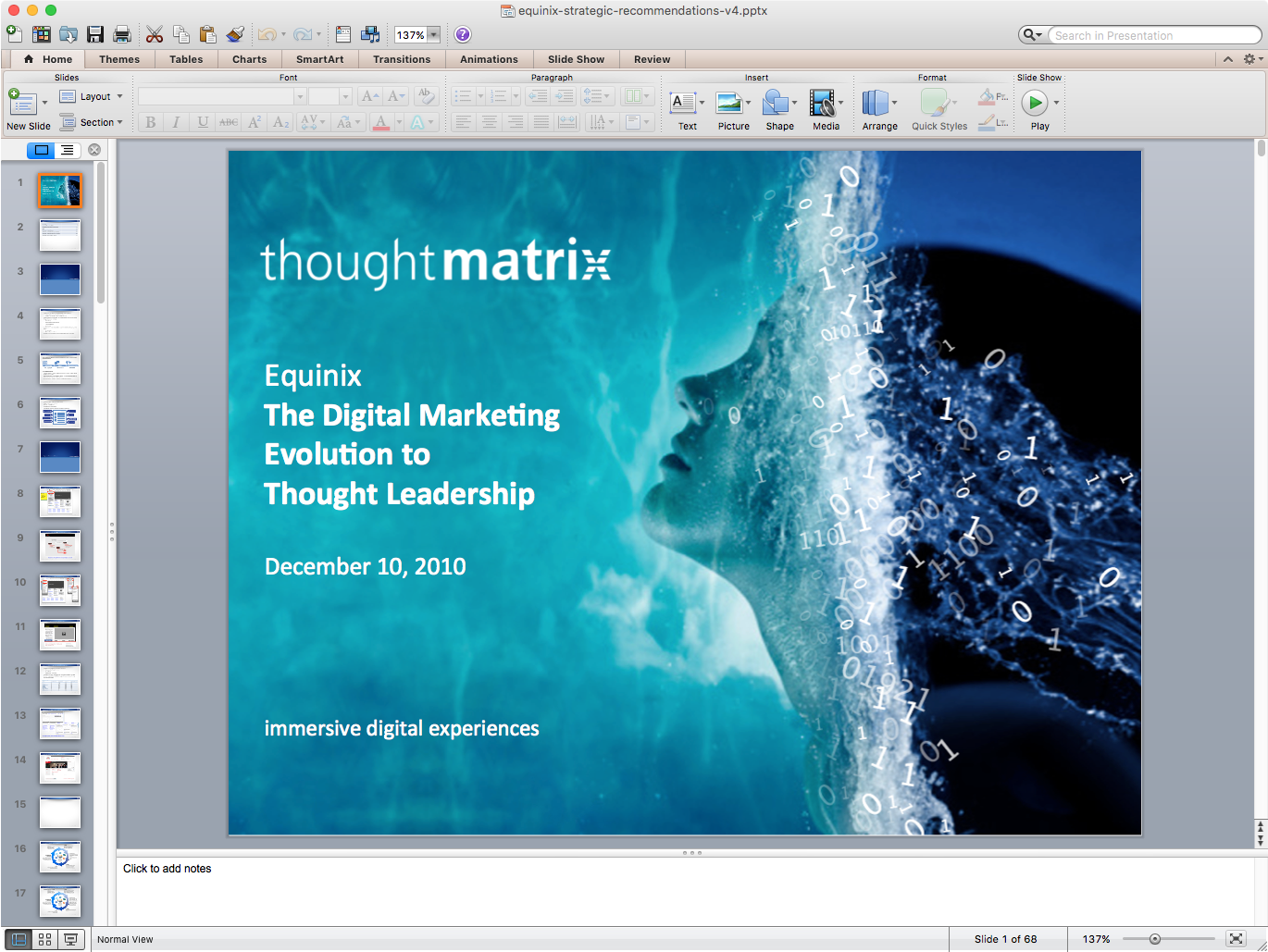 Informed Design
Information Architecture
Large sites with a lot of content are always challenging to organize in a way that makes sense to the majority of users. In order to organize and structure the site, we worked with key stakeholders and performed exercises similar to card sorting. After several iterations, we had a solid and flexible architecture that would allow Equinix to add content as their expansion strategy played out.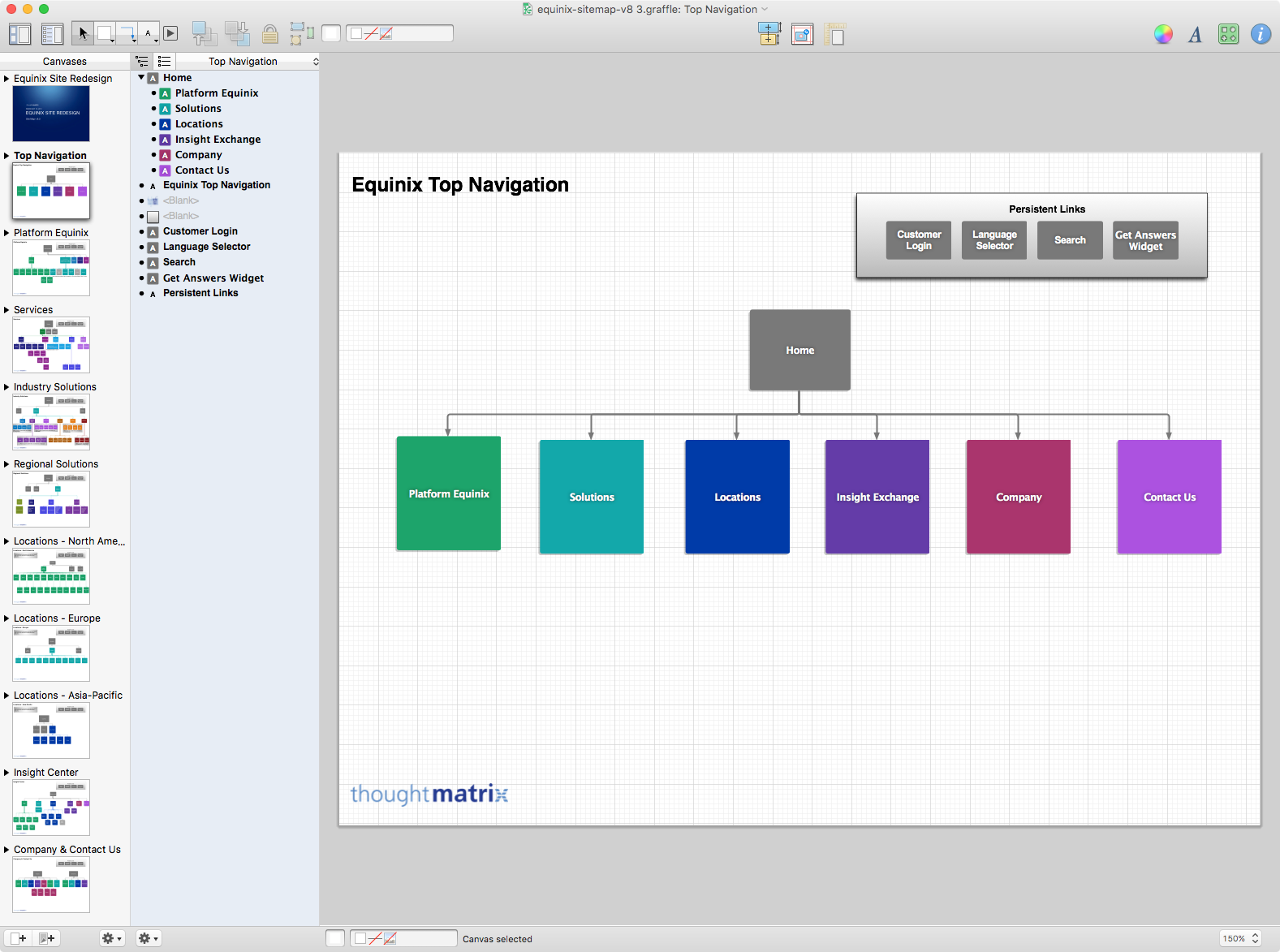 Regions, business units and vertical owners were provided a flexible toolset to add custom content and Thought Leadership pieces. Platform Equinix, their global marketplace for interconnections, was featured prominently in a dedicated section. Thought Leadership pieces were both consolidated in a centralized repository and cross-linked throughout the site.
The investment in Thought Leadership was heavily leveraged for lead generation. Every download was an opportunity to connect with a customer — and to create an ongoing conversation — since we used marketing automation to offer continuous touch points beyond the site.
Finally, Social Media was heavily integrated throughout the site, which was an uncommon practice for enterprise companies as the time.
Interactive Design
The site was designed over several months, in a series of iterative sprints. I created clickable prototypes in Axure, which allowed stakeholders to test interactions and get a feel for the information architecture. Once a layout was approved, I worked with engineering to have templates produced.
Site templates were designed to be modularized and flexible enough to accommodate a wide variety of content. Templates were assigned automatically by the CMS, based on region, site section and page depth. Some templates had regional variations to accommodate the needs of certain languages like German and Japanese. More than 50 modules on the site were lead generation tools — and integrated with Salesforce and Marketo.
Some unique features were dropped during the process, due to time constraints. We had initially planned to do a site-wide "Ask Equinix" feature, which would use natural language processing to suggest Thought Leadership content.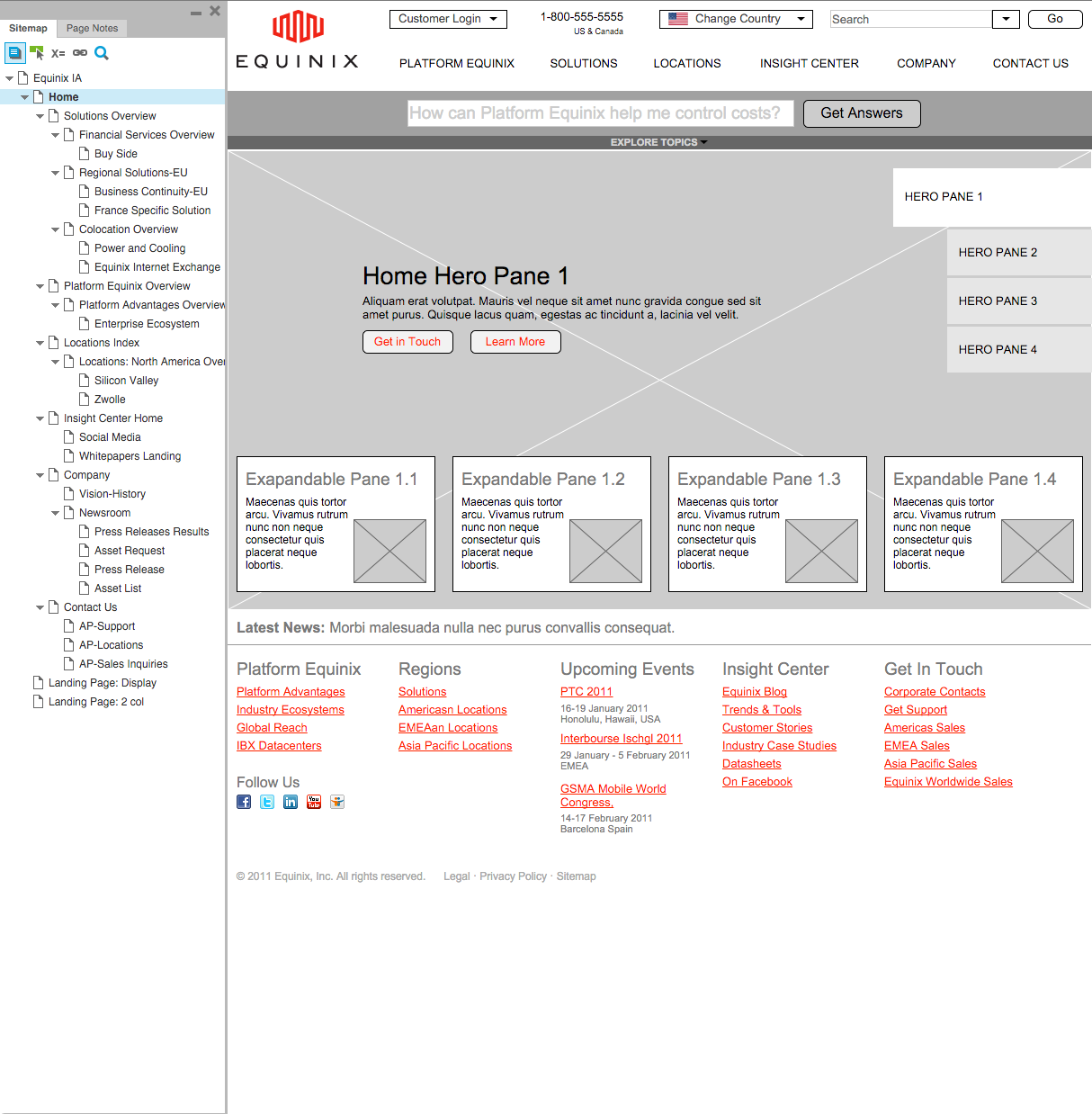 Section with Hero (Prototype)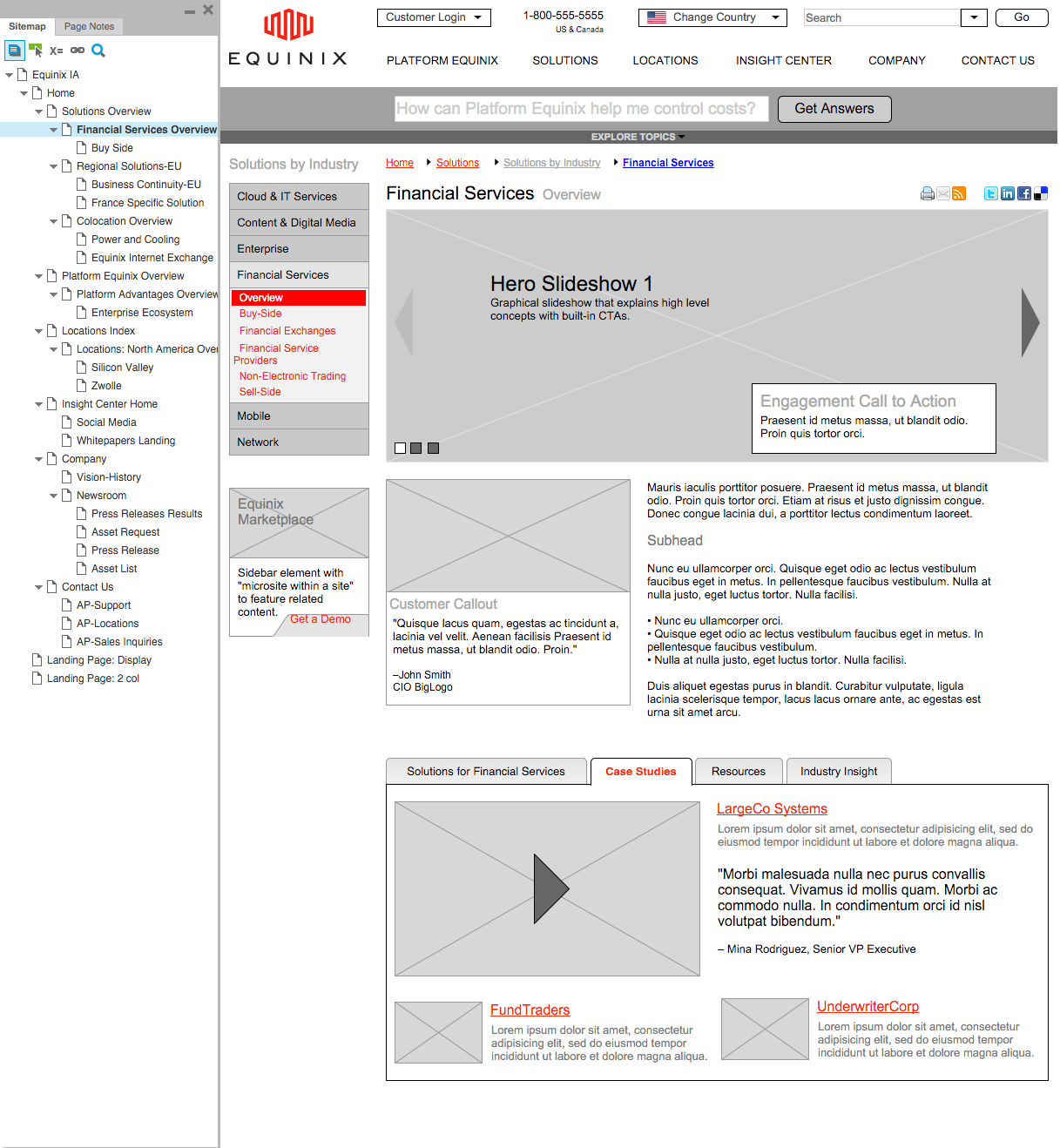 Regional Content (Prototype)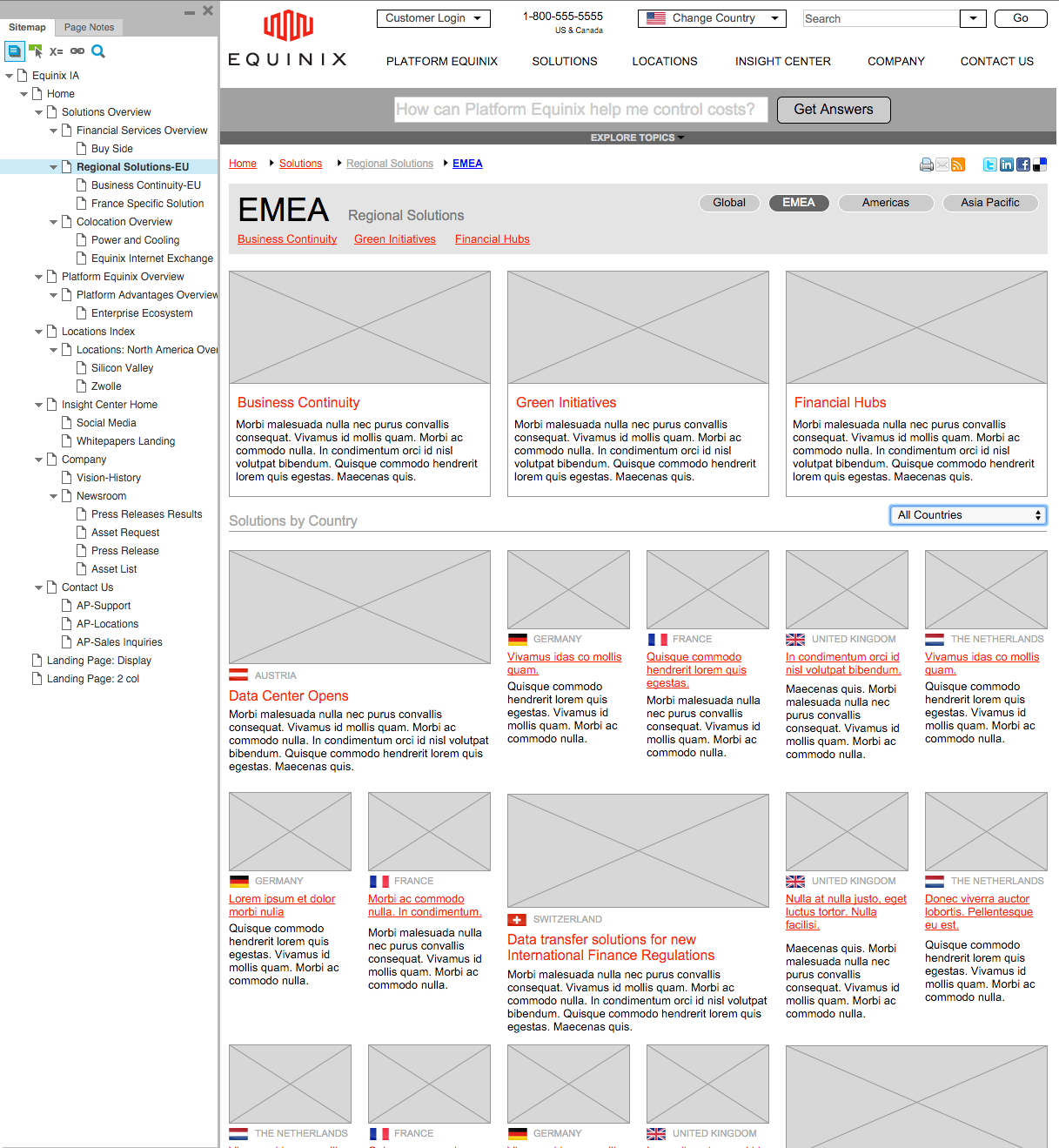 Region Overview (Prototype)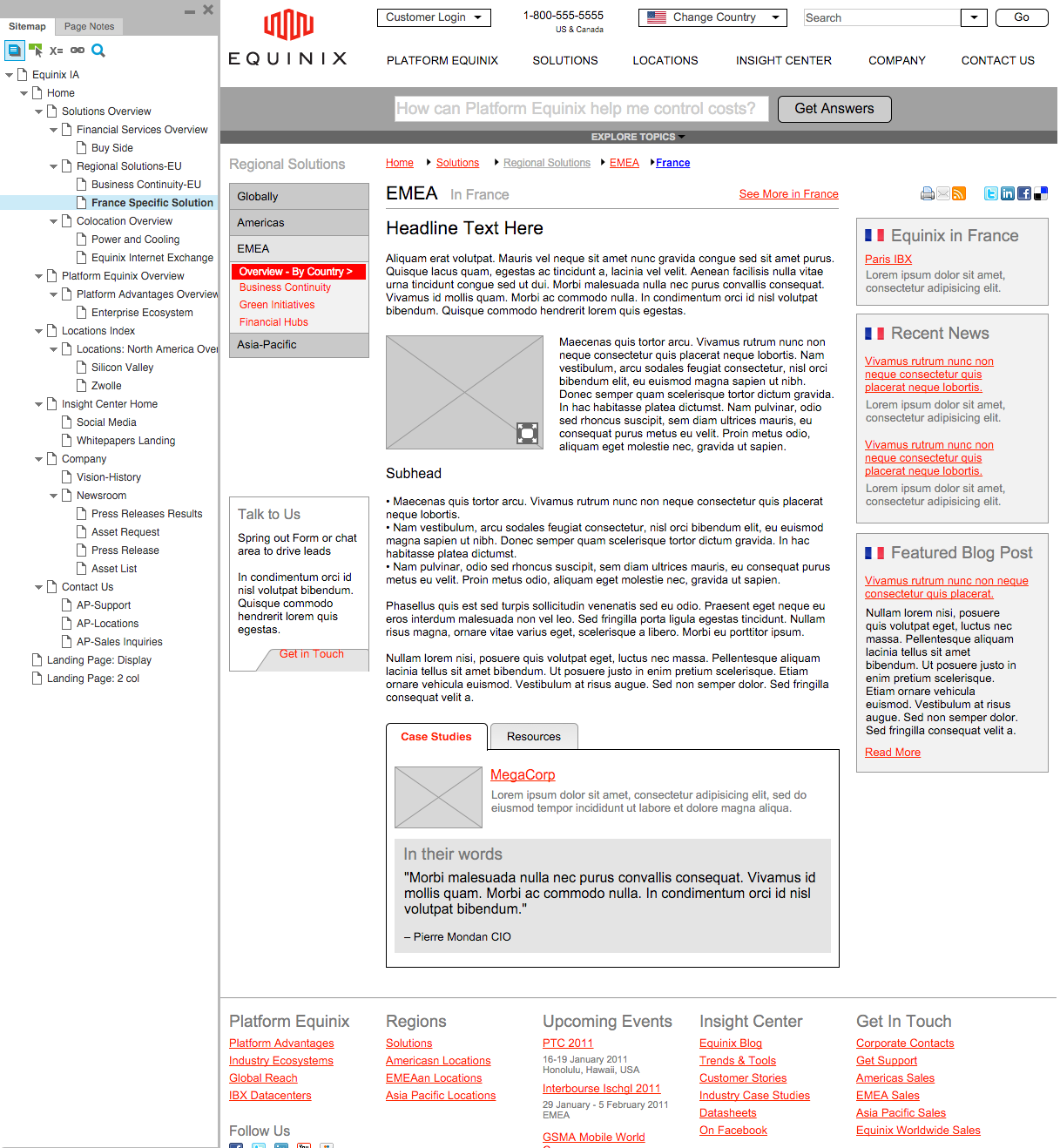 Datacenter Location Detail (Prototype)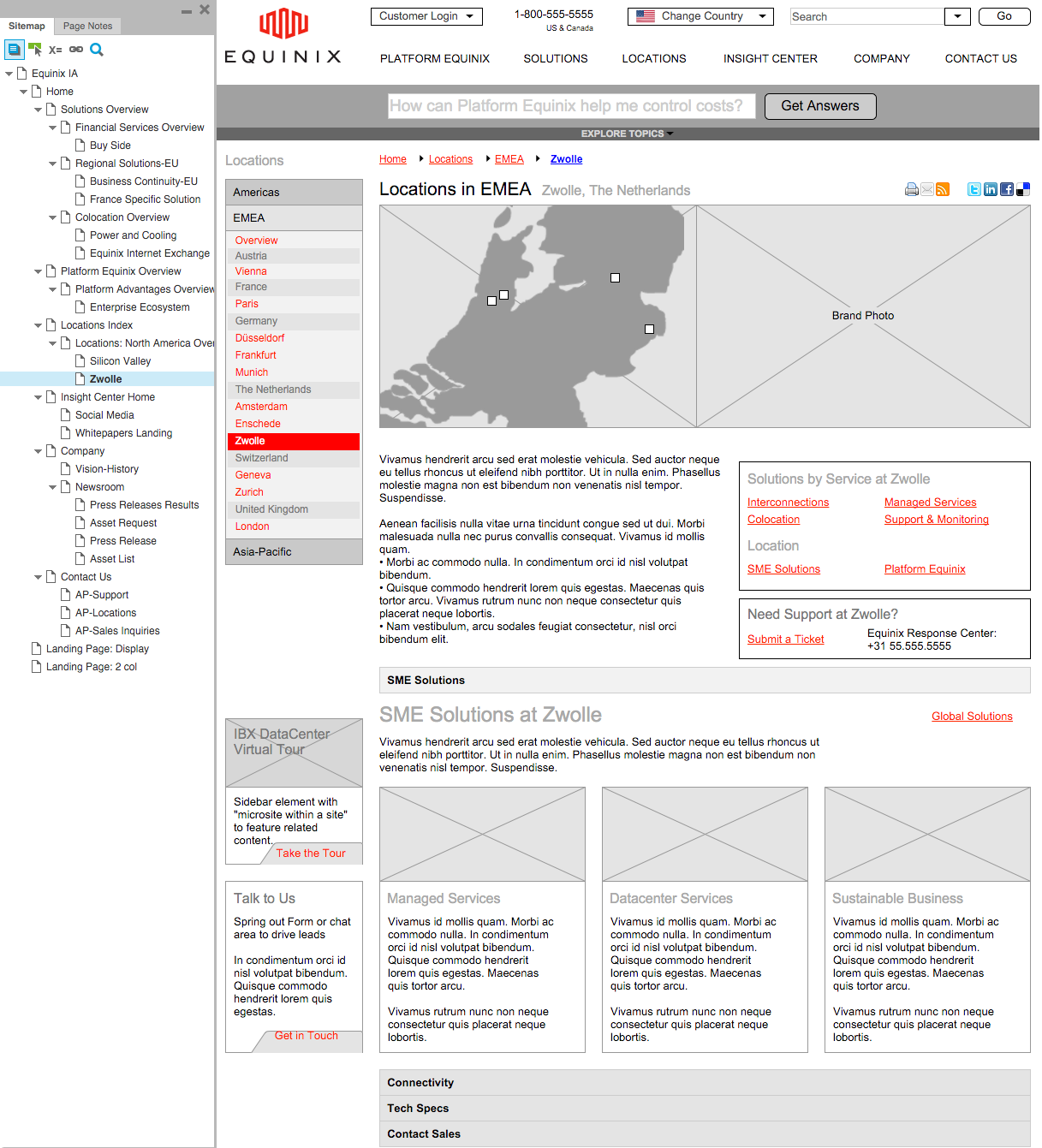 Business Unit Overview (Prototype)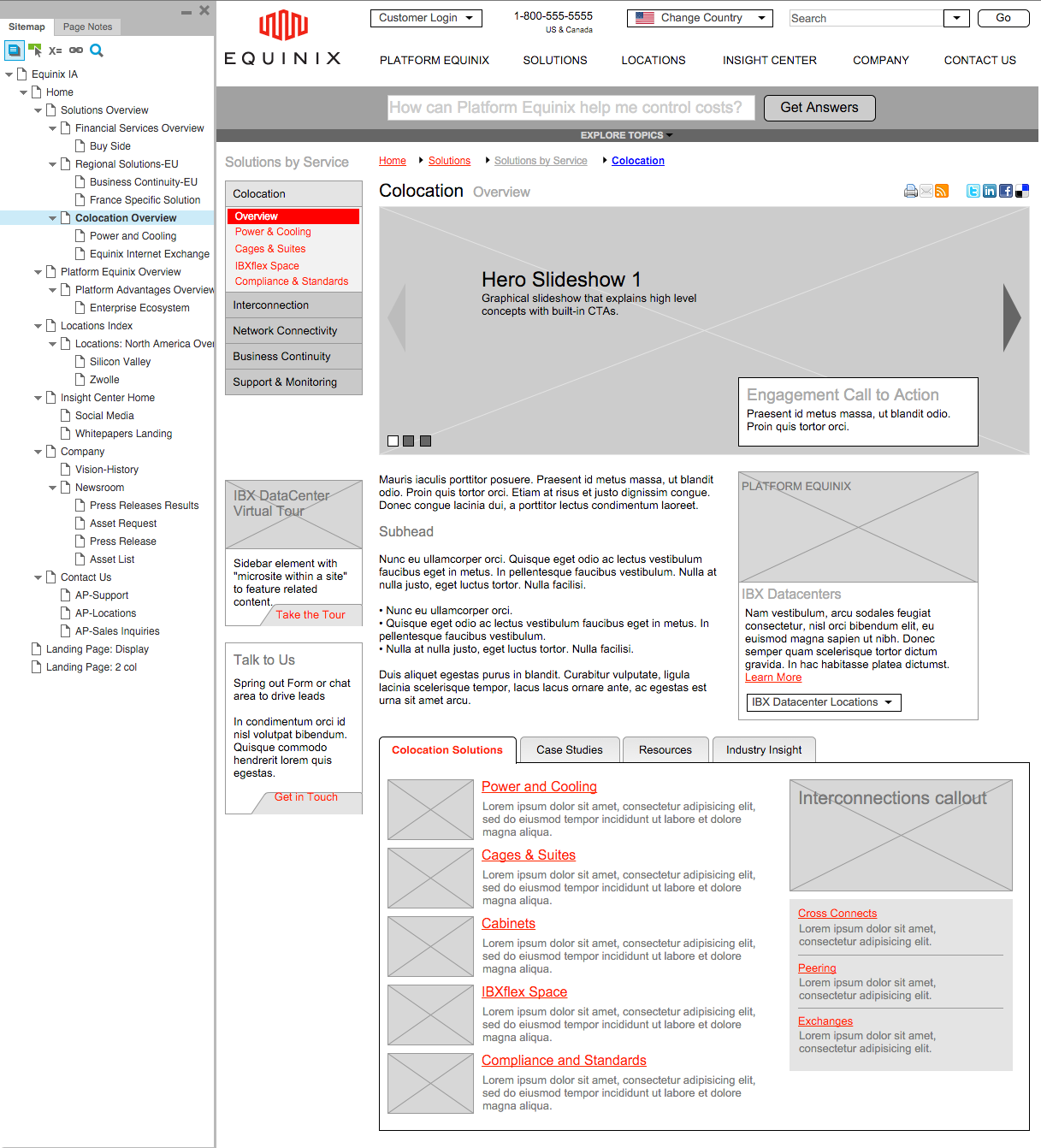 Business Unit Detail (Prototype)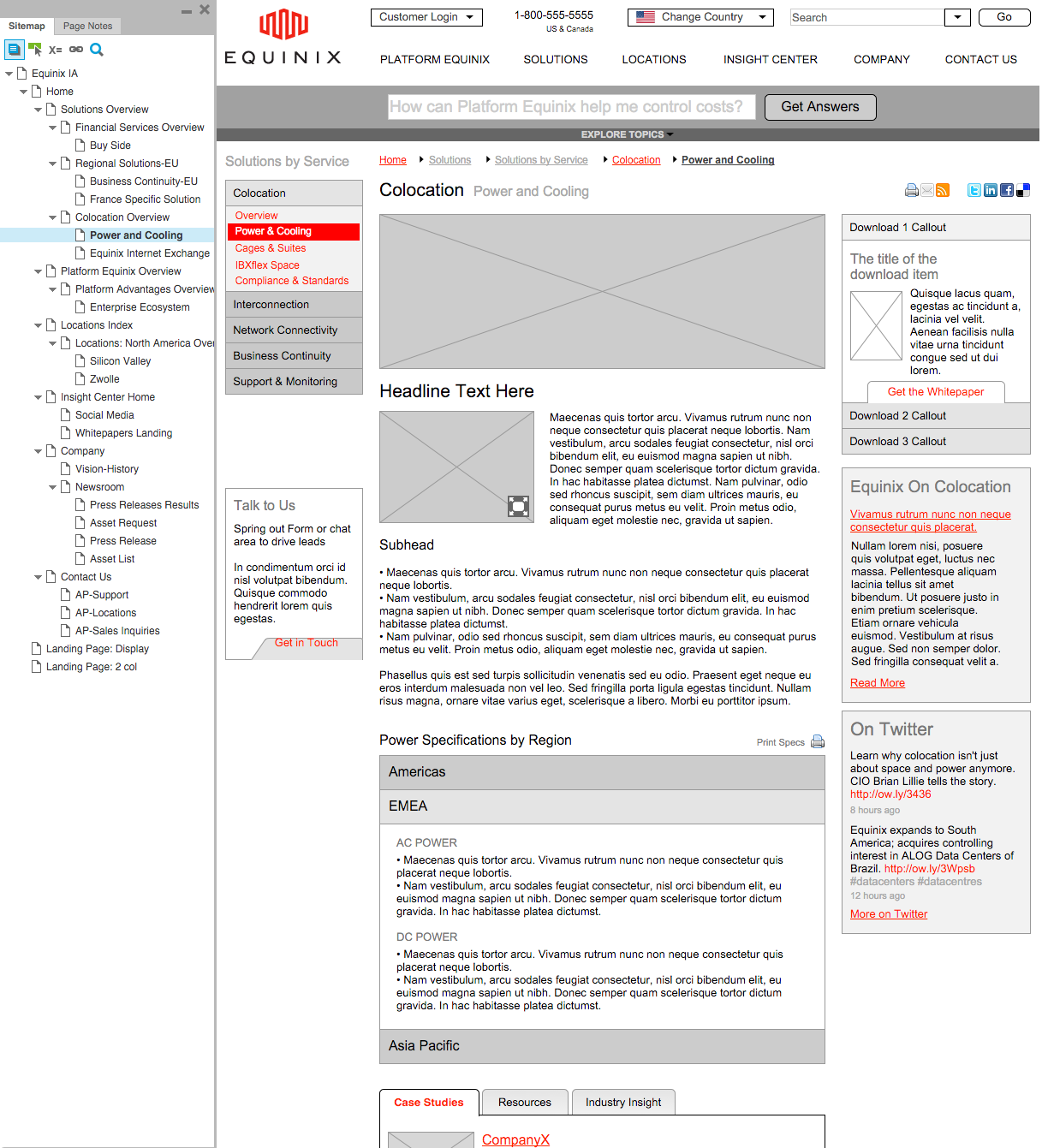 Top Level Section (Prototype)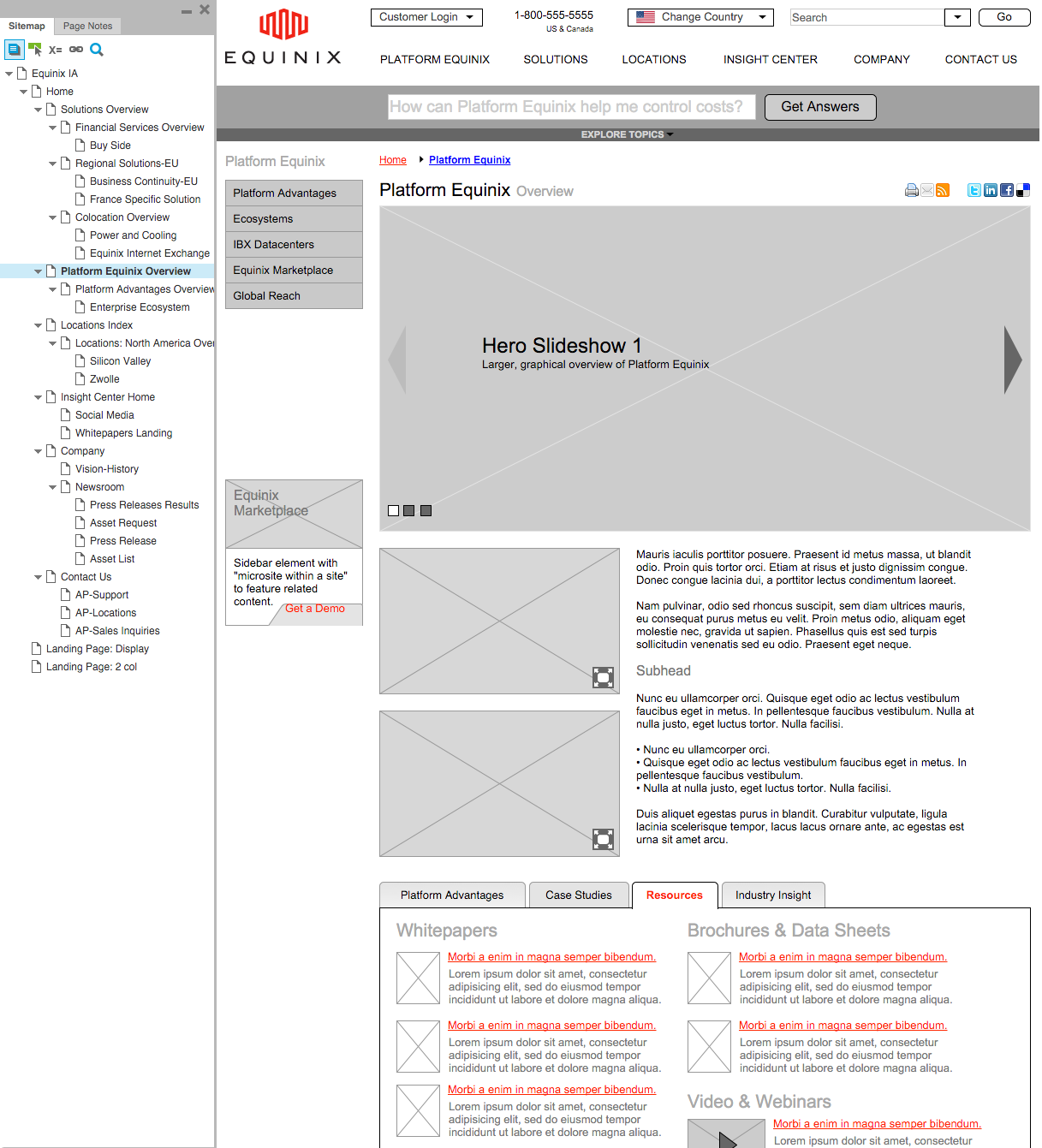 Insight Center (Prototype)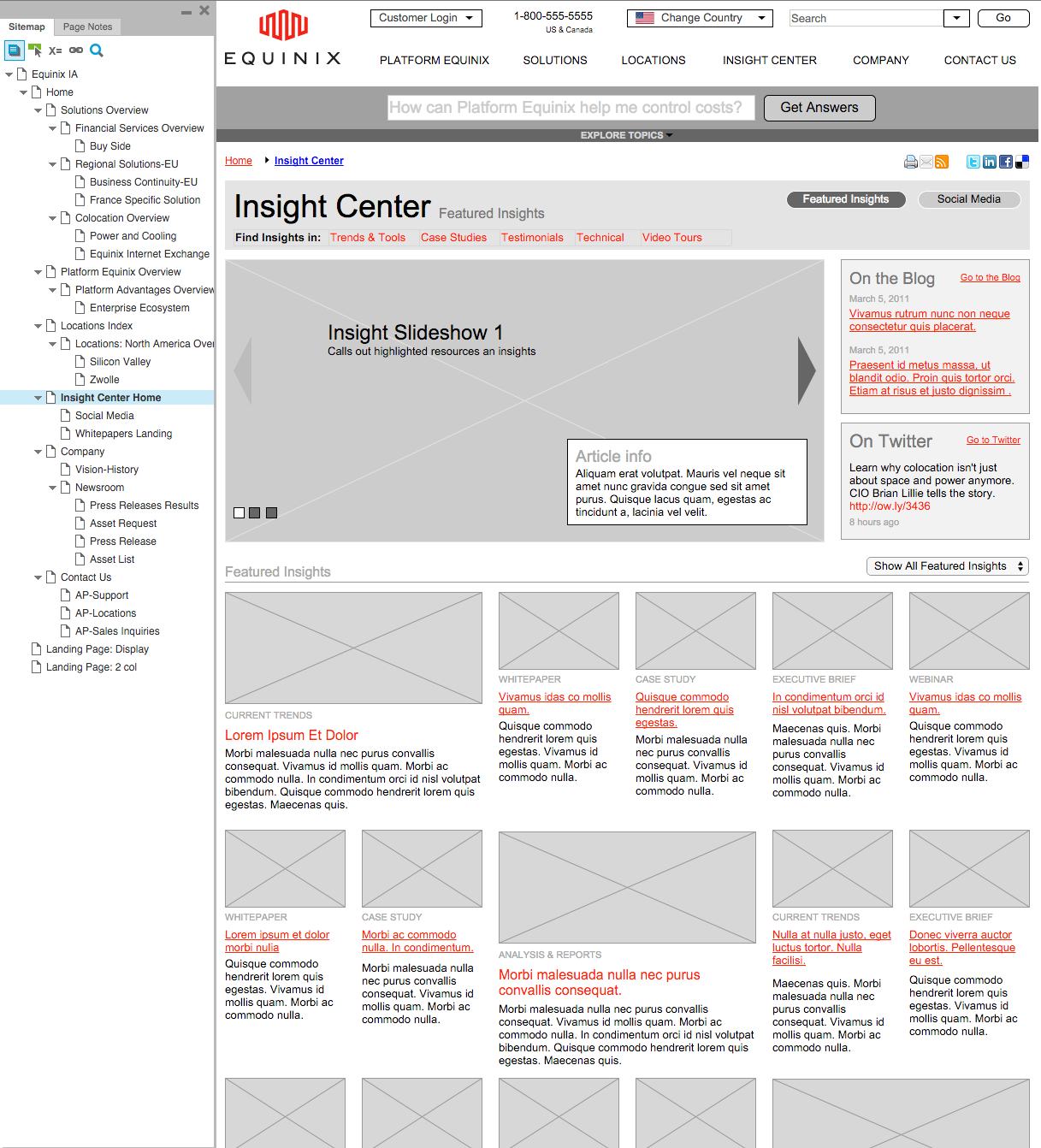 Insight Center - Search (Prototype)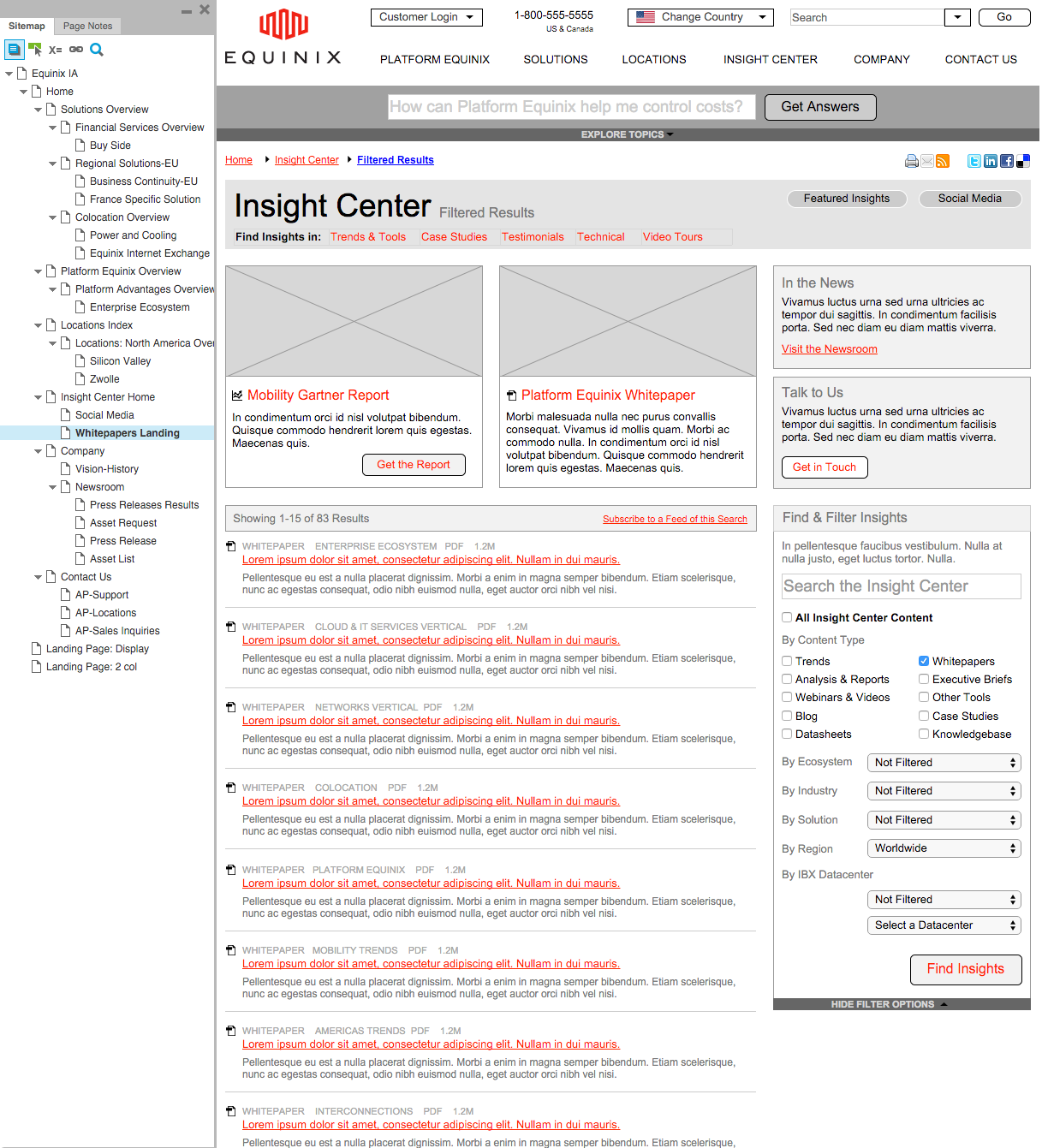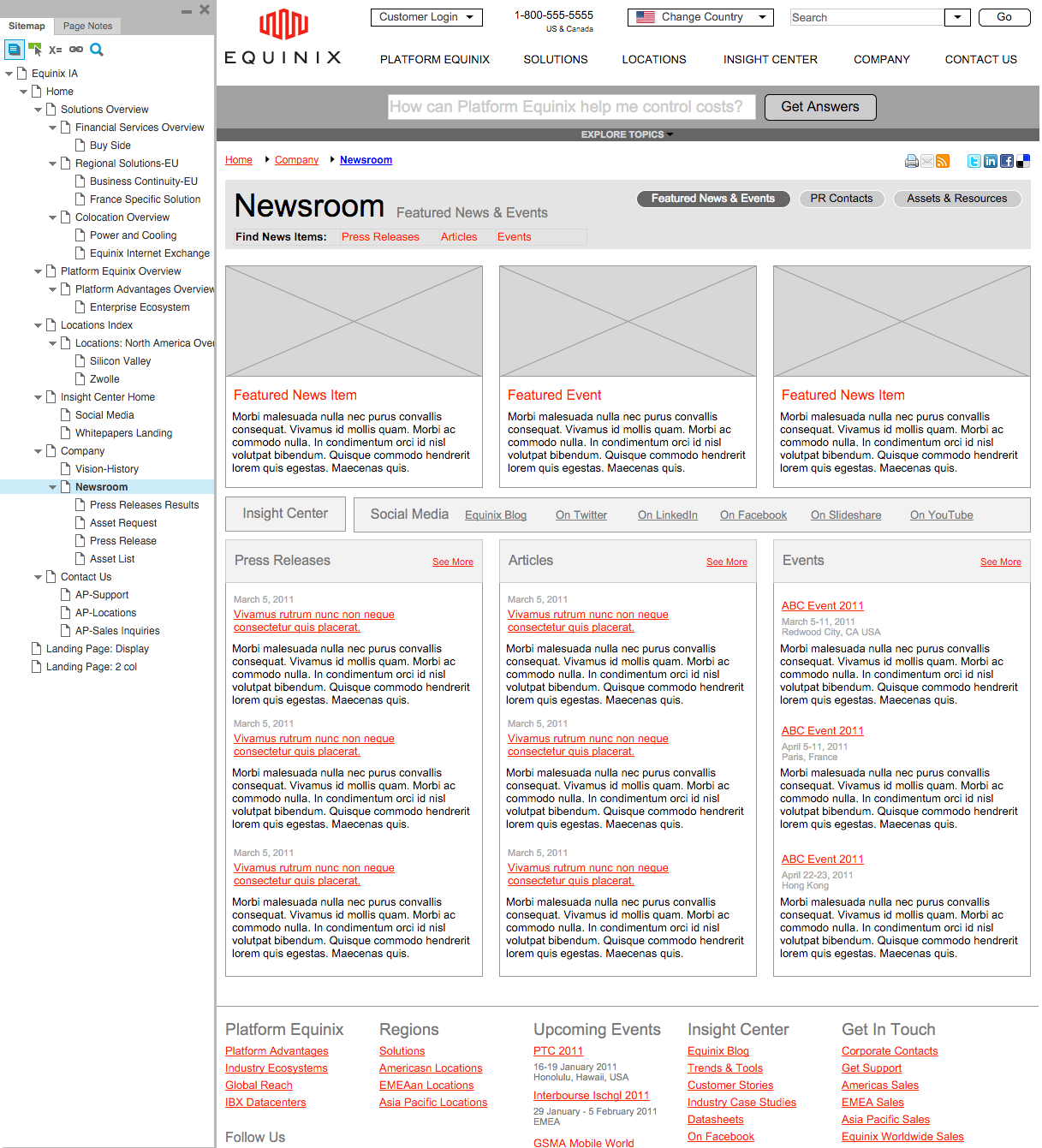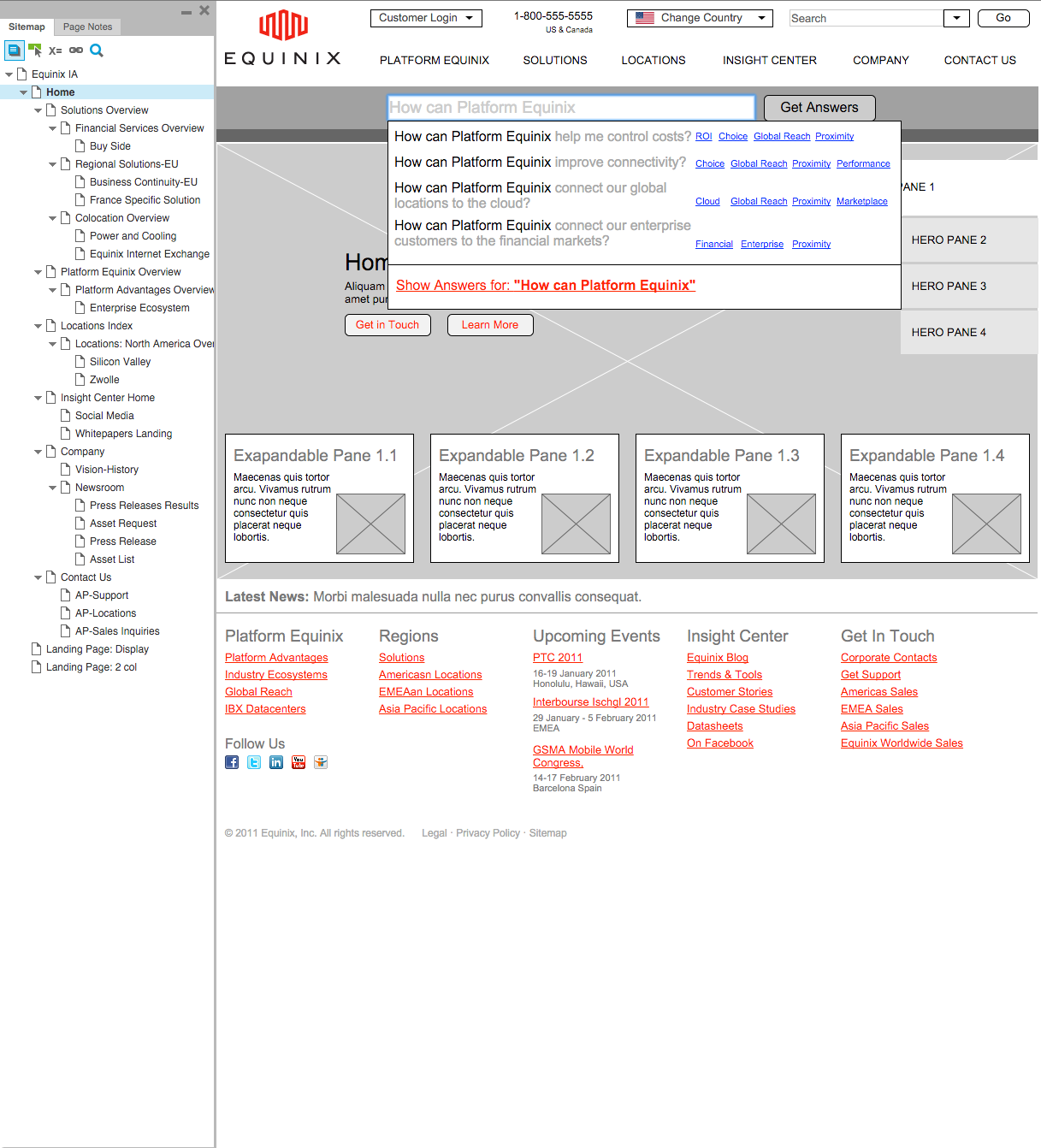 Ask Equinix - Results (Prototype)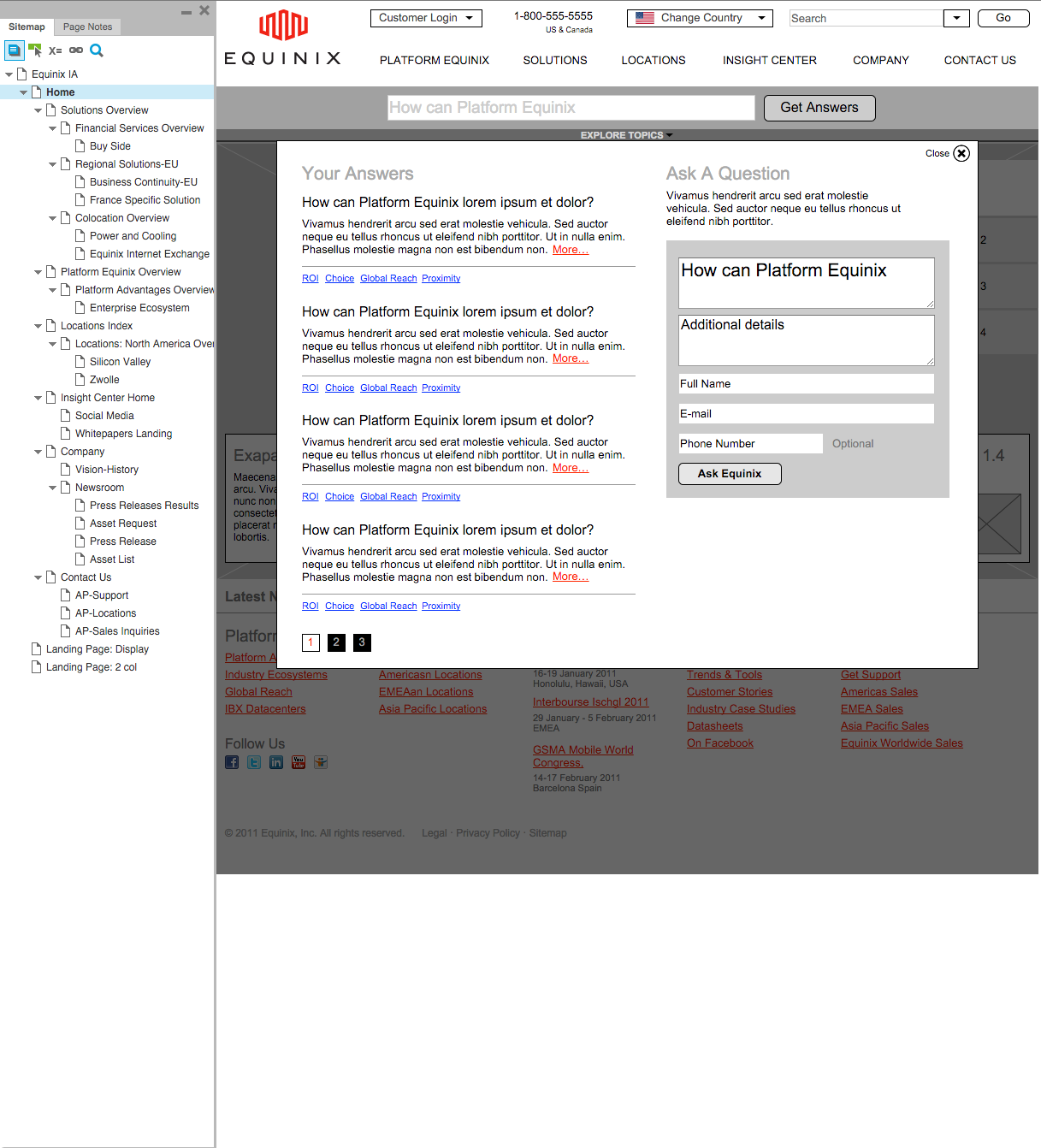 Visual Design
Equinix was in the process of rebranding, so the time was right to veer away from the dark, predominantly black and red look of the current site. I created four different designs, and the marketing team selected the most controversial approach. It was a radical departure from their current look, and it had to be sold directly to the CEO and other C-Level executives.
Due to information-dense subject matter, many pages have a lot of content and links to resources. Thus, the design is intended to "fade back" to let the content be the star. UI controls feature large buttons and contrasting colors, so it's obvious where to click. The home page features several conceptual montages that highlight Equinix's key strengths and benefits. I conducted a photoshoot to provide a library of reusable site-wide imagery, and I backfilled with an approved list of stock photos.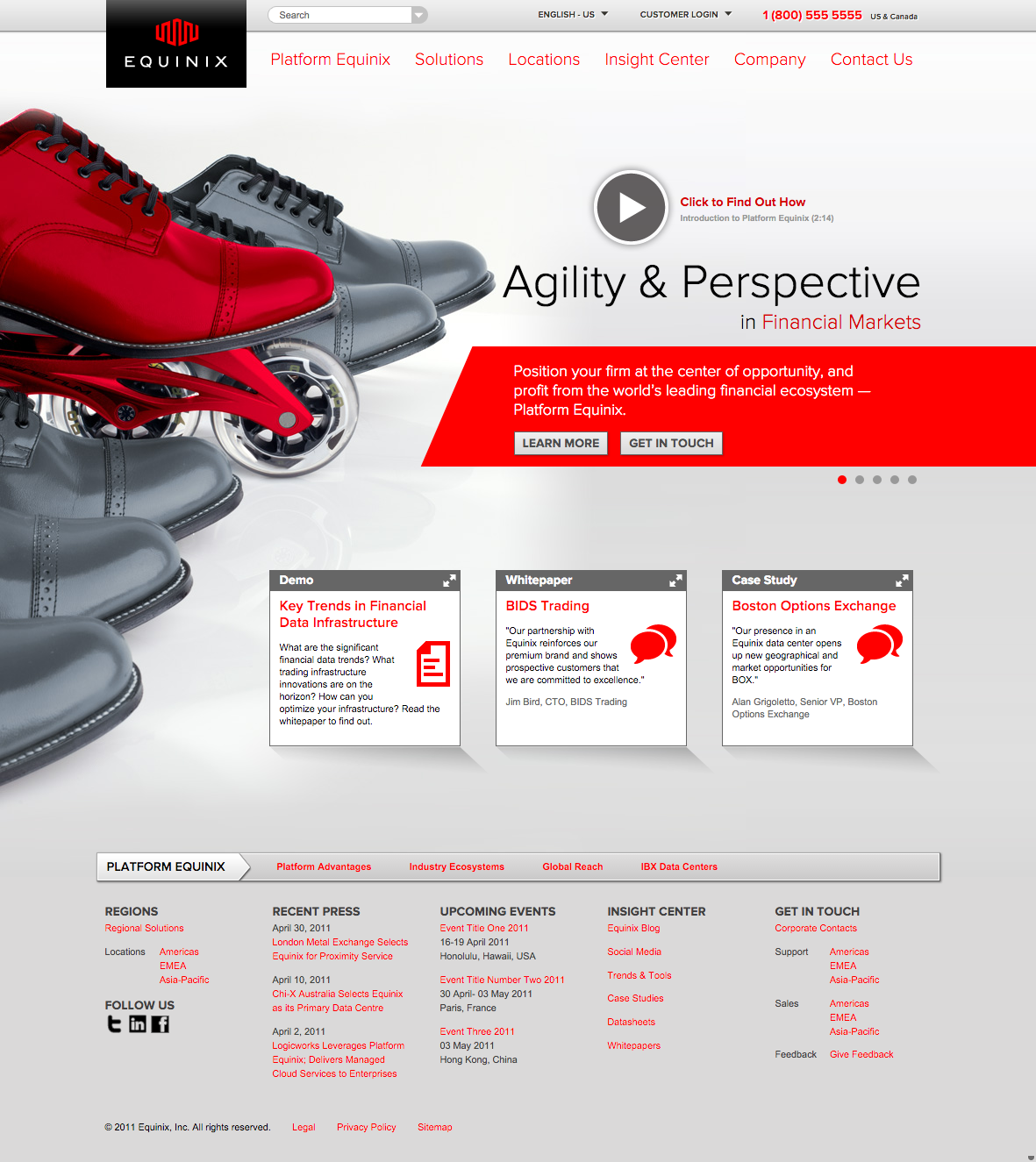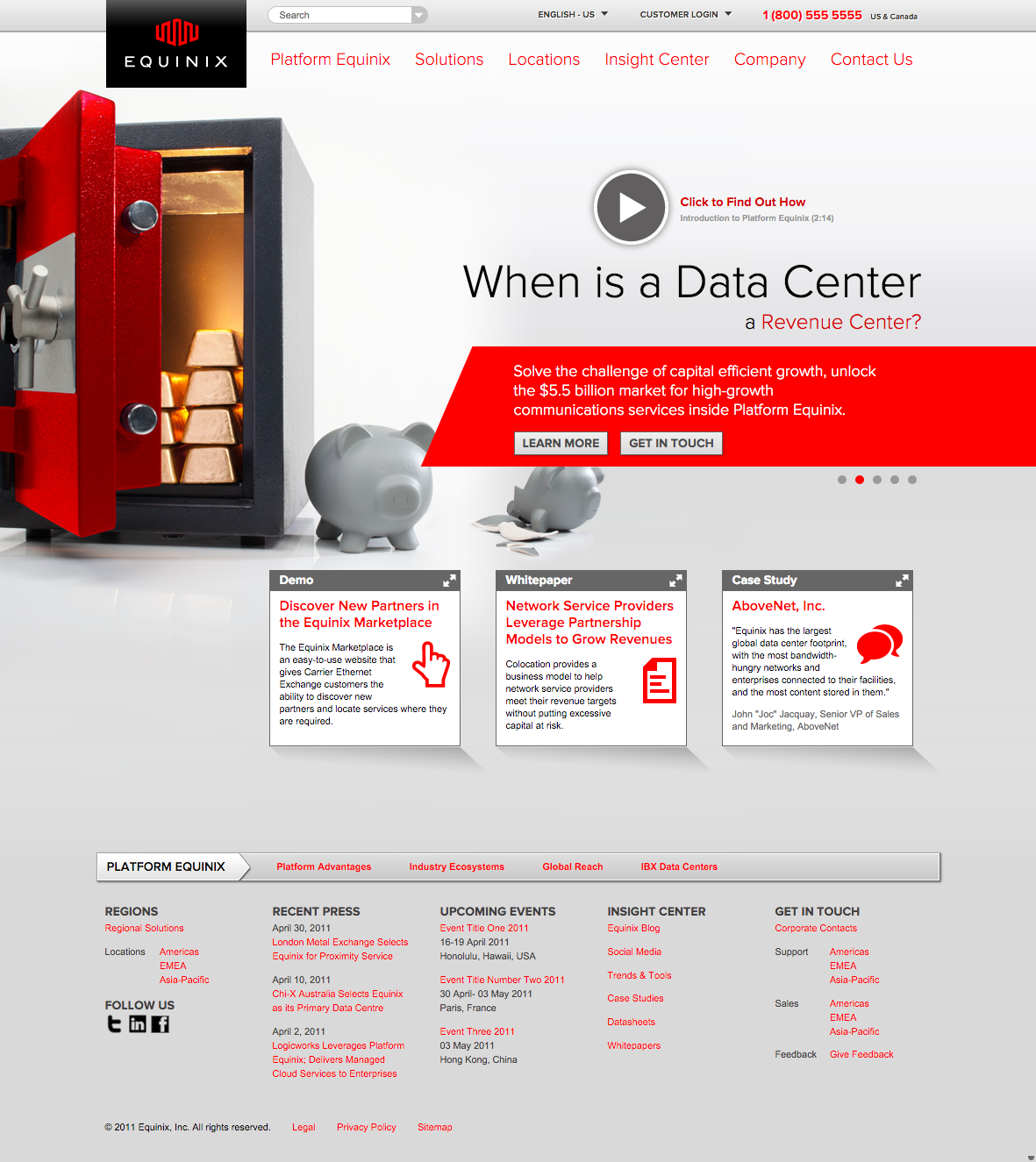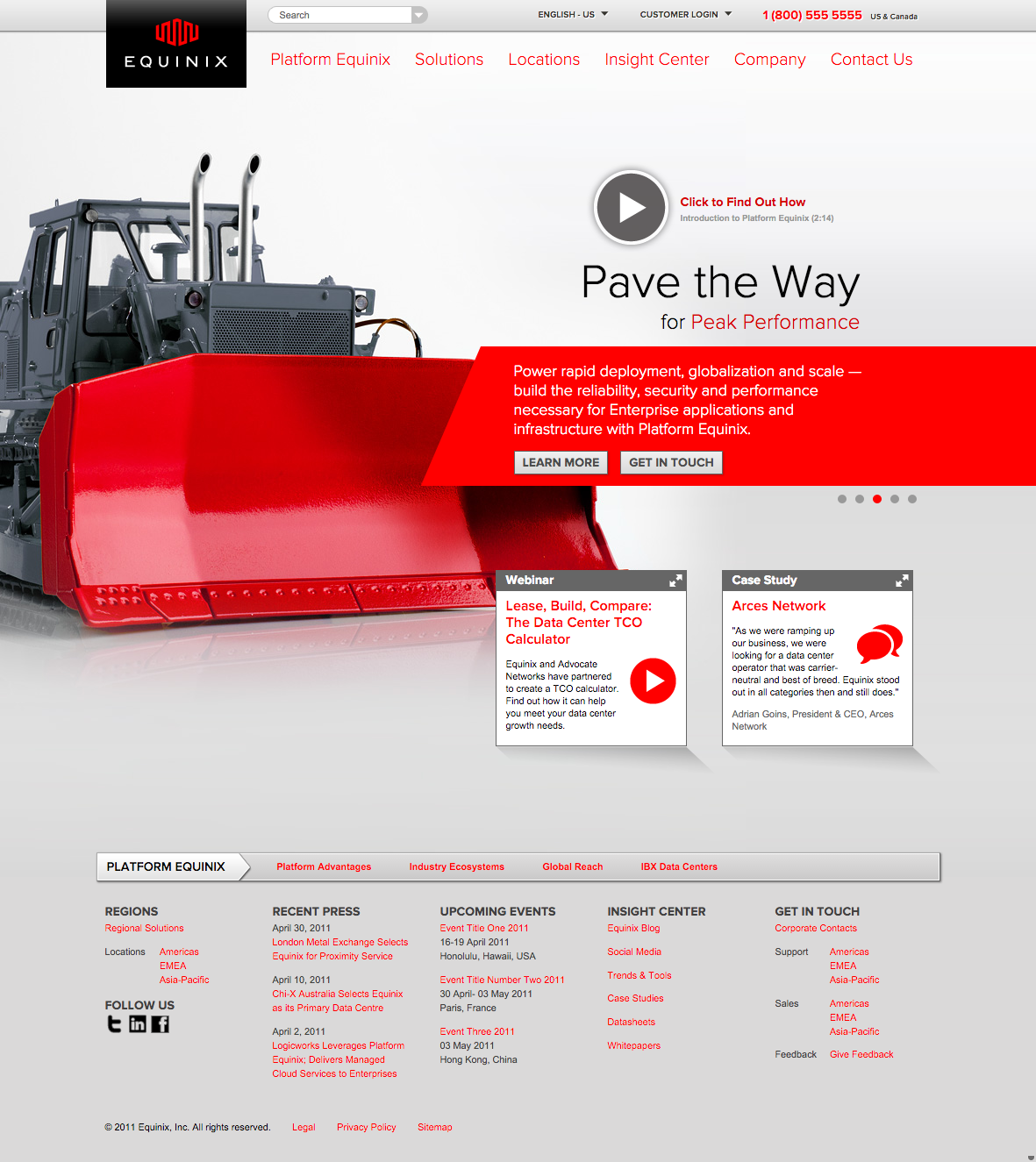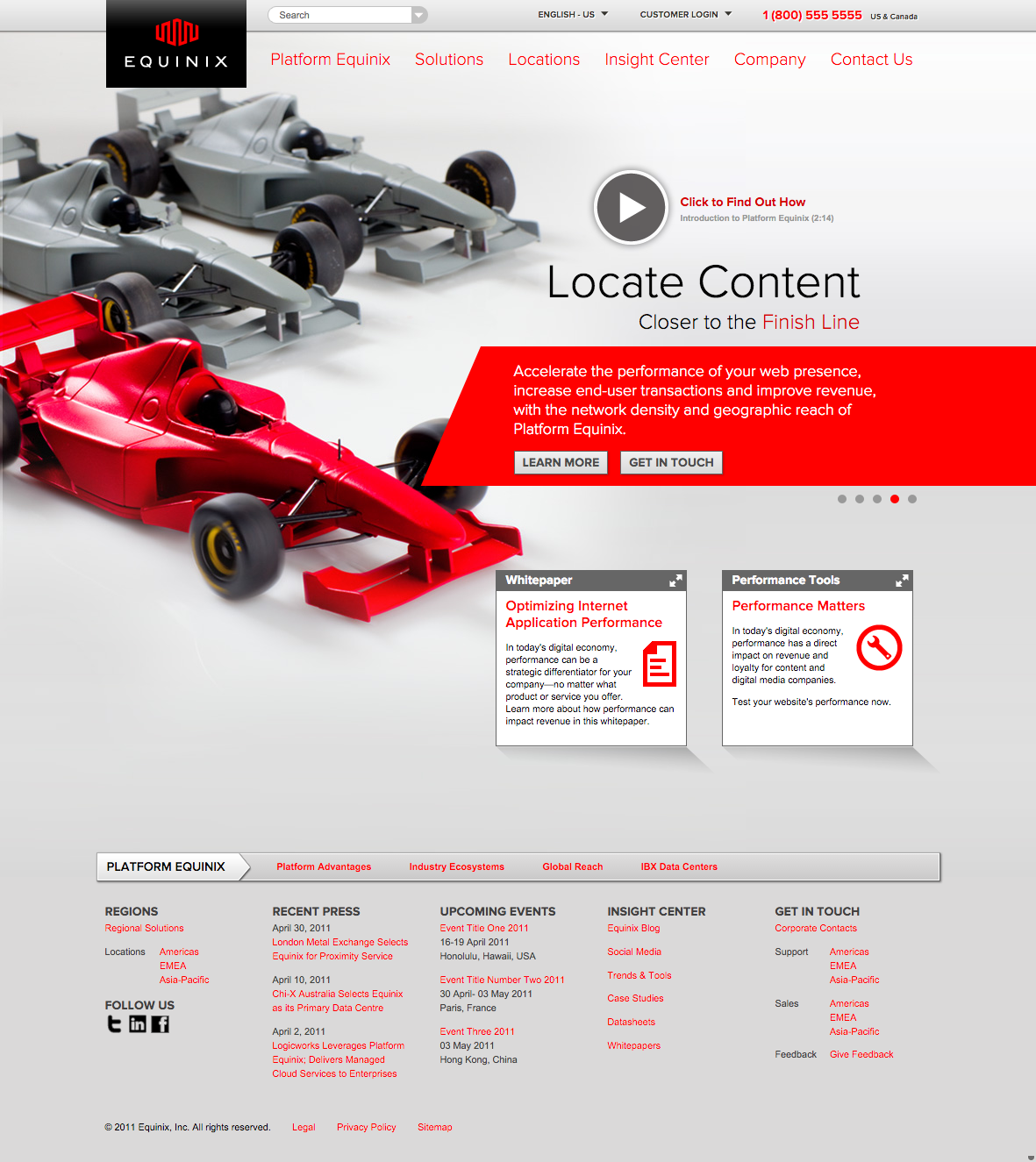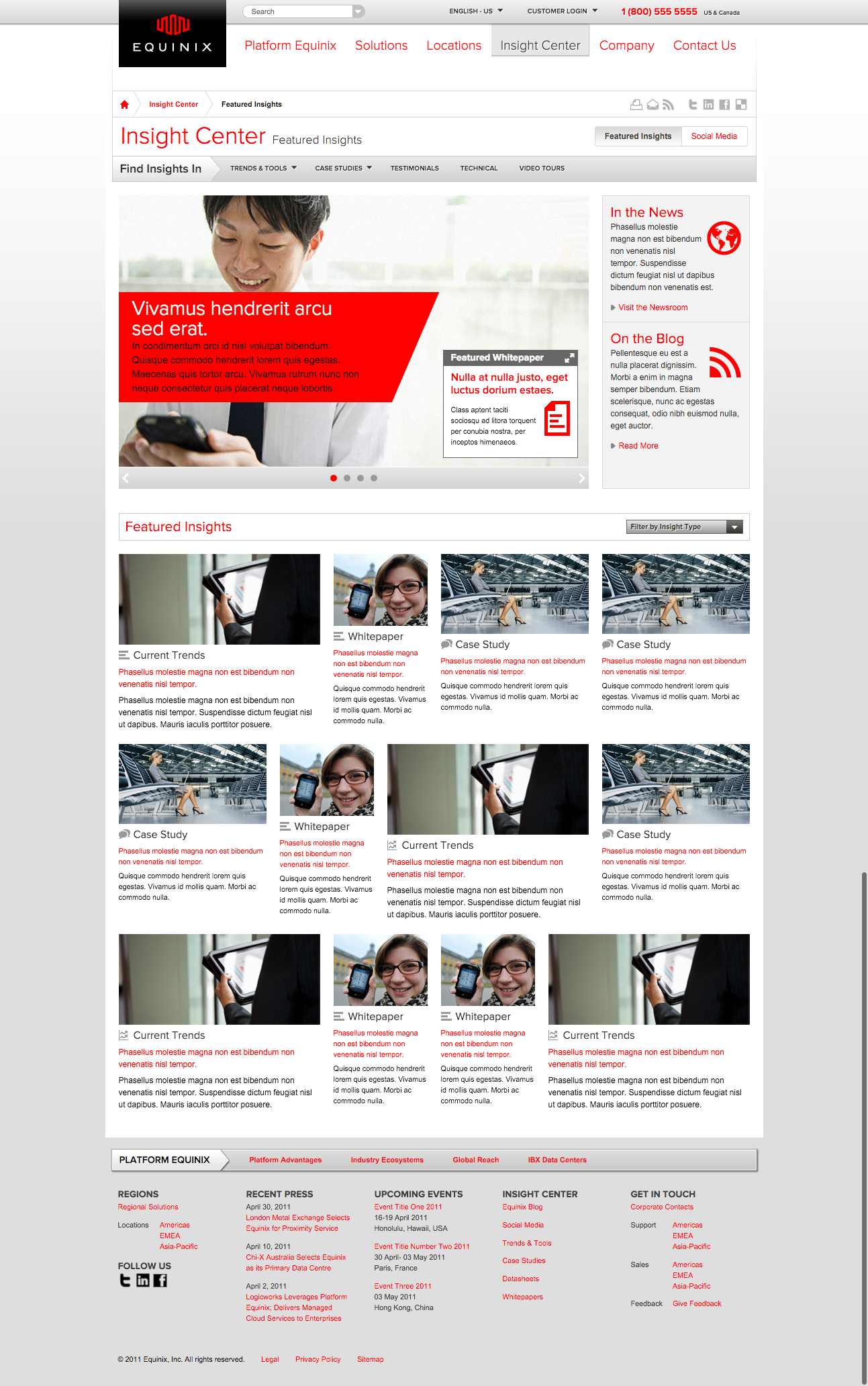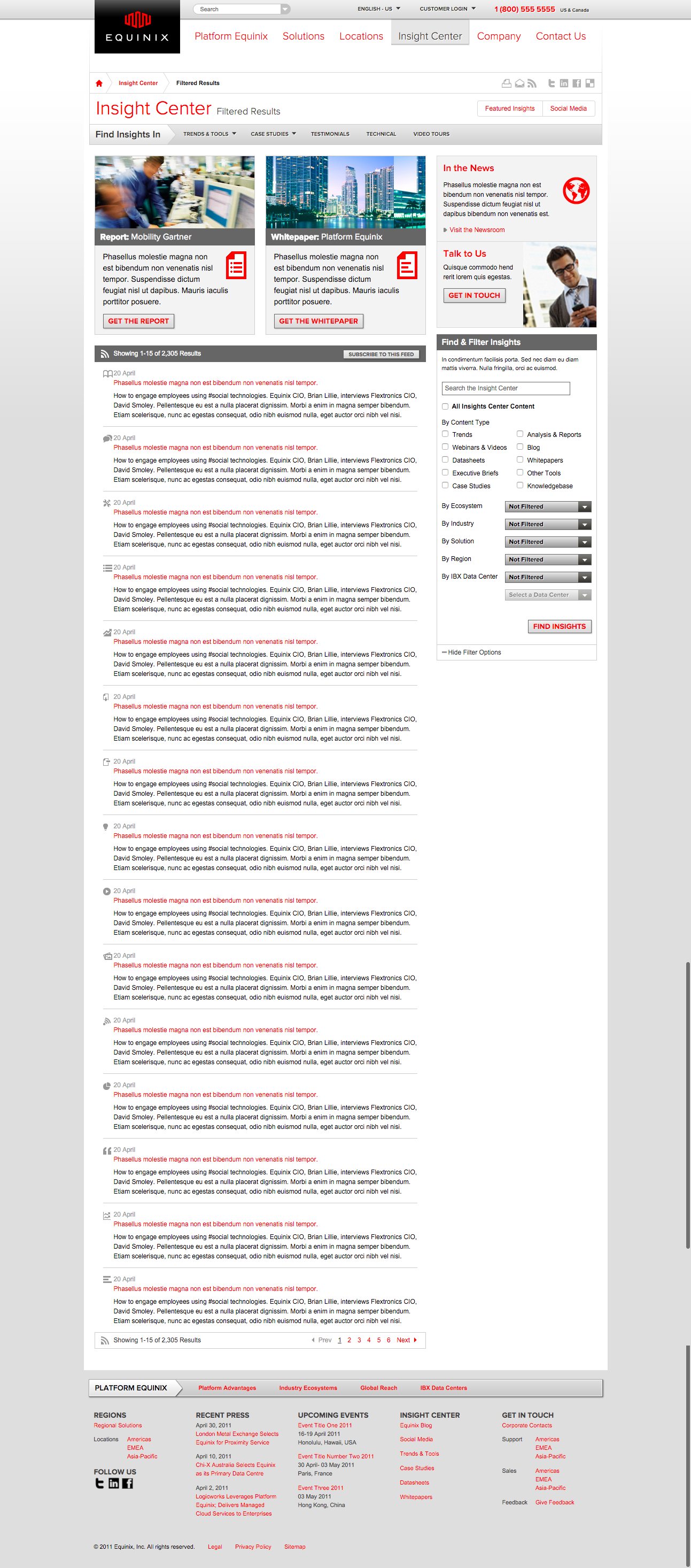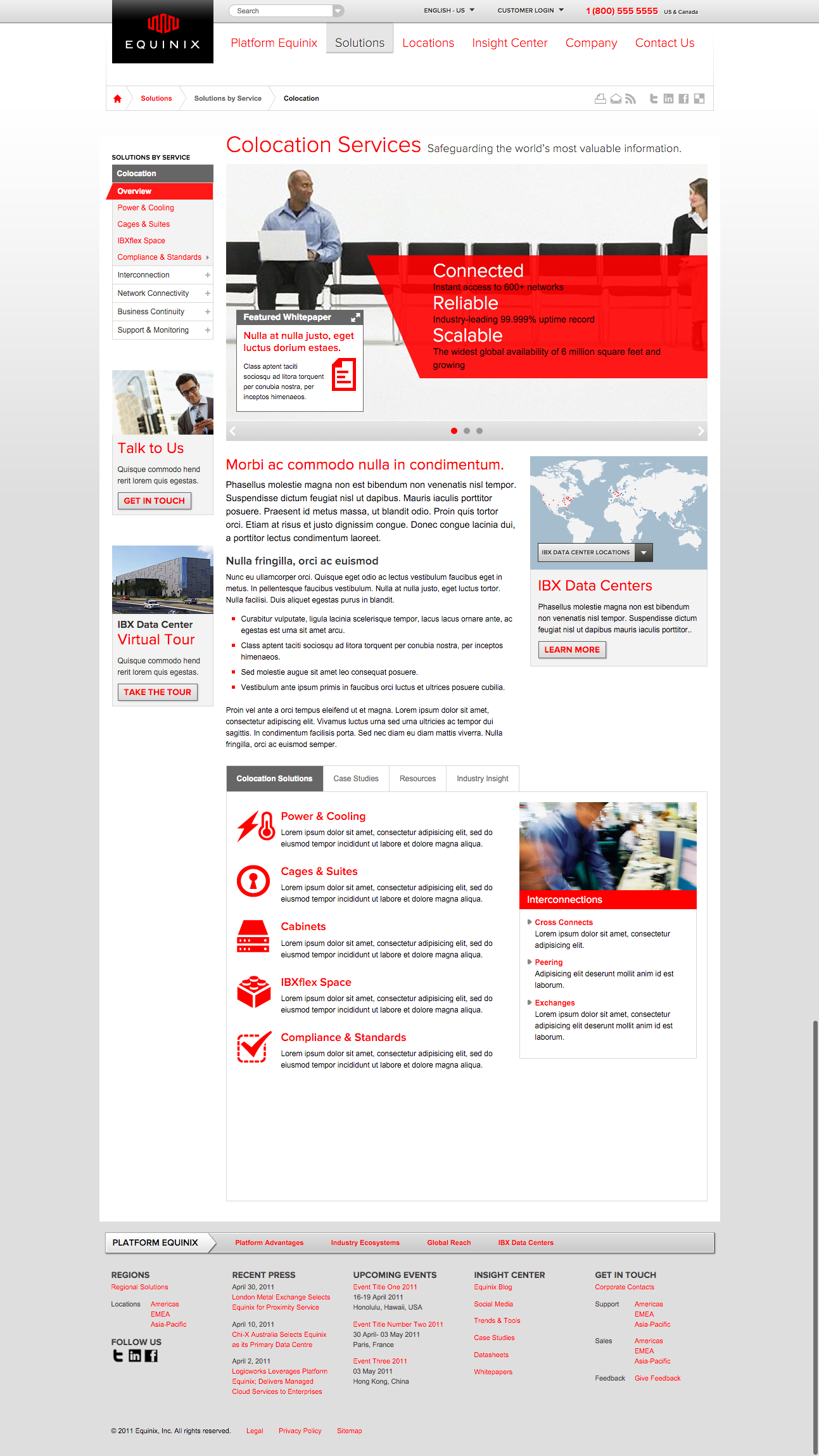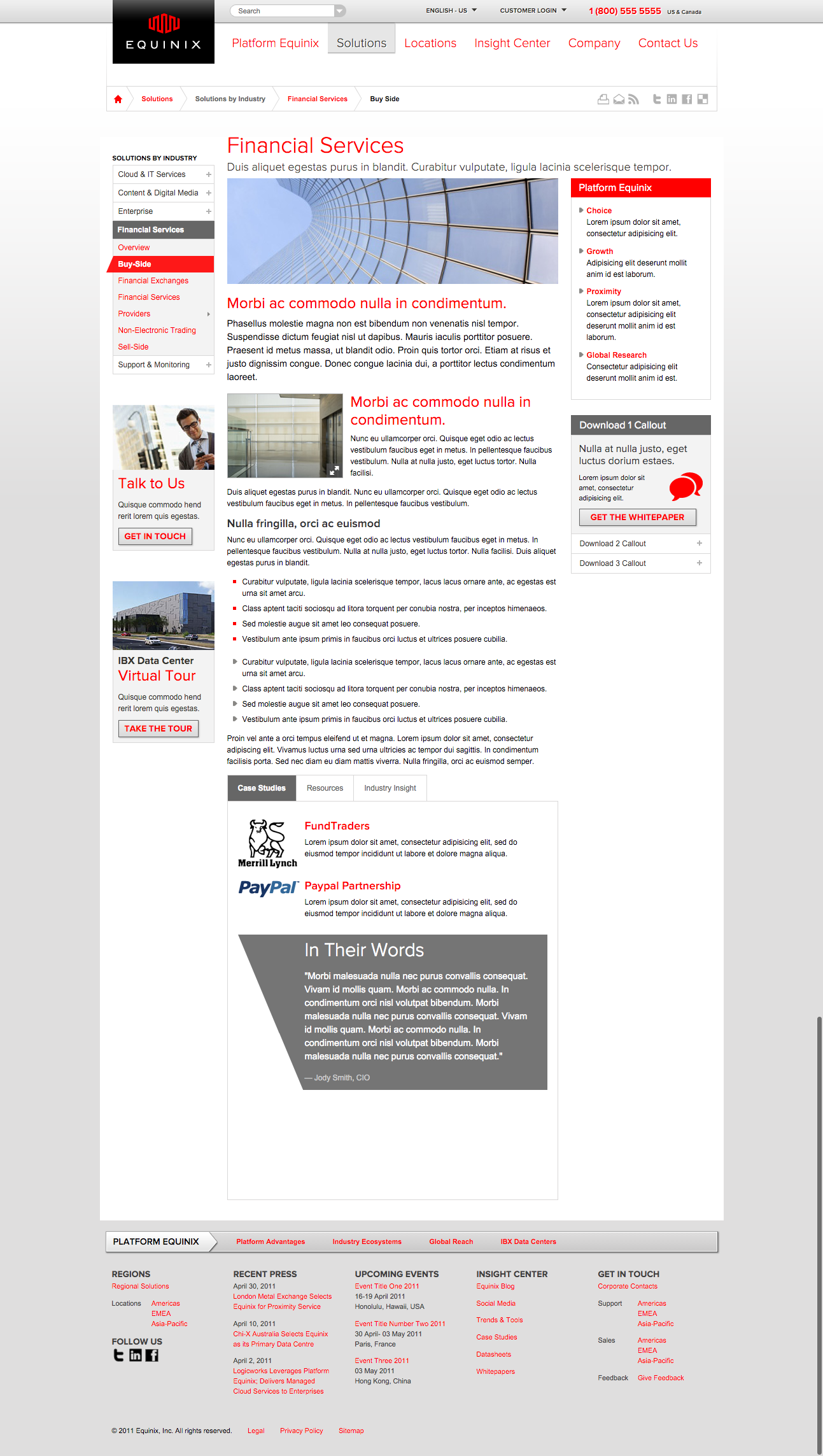 Datacenter Locations Overview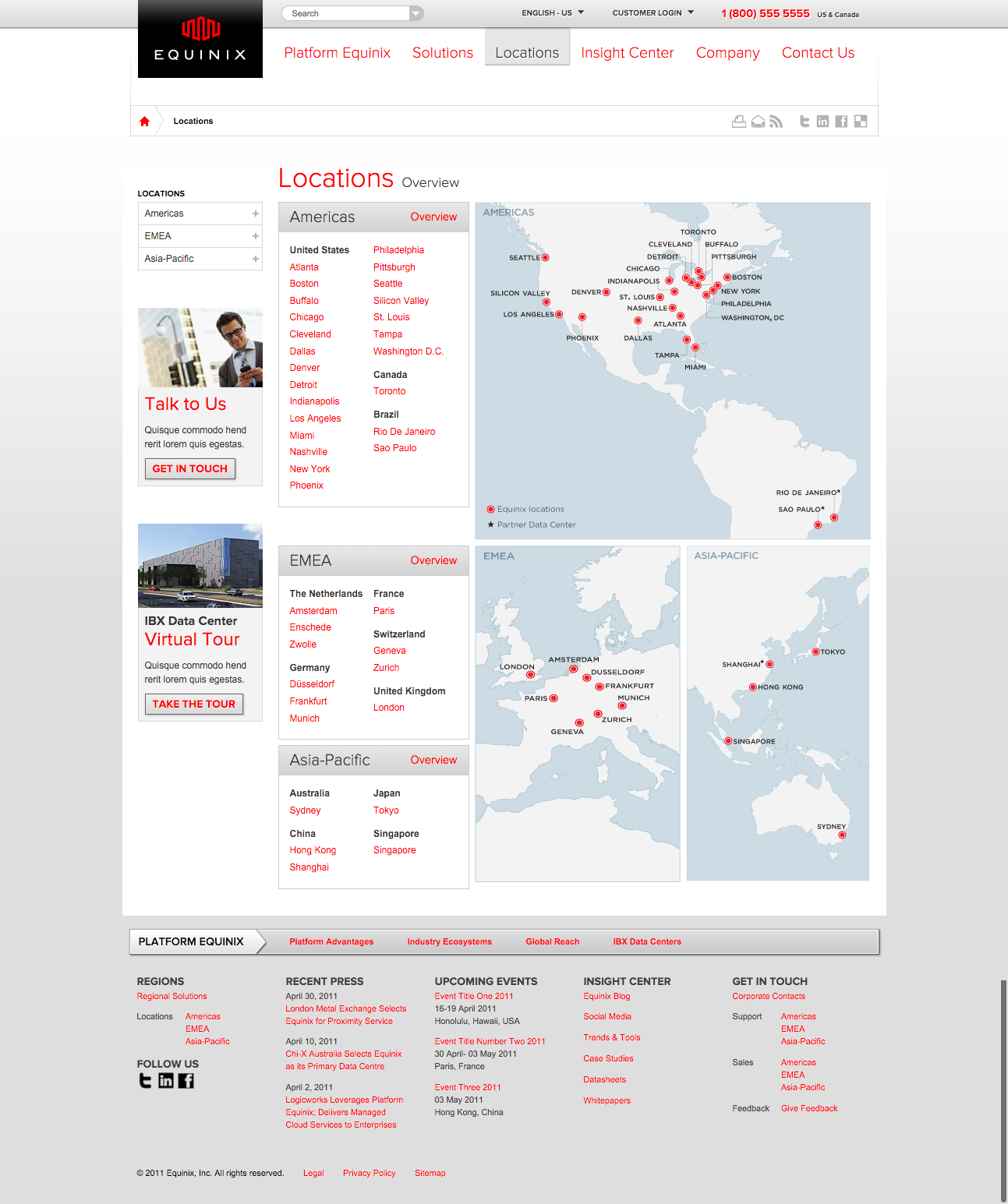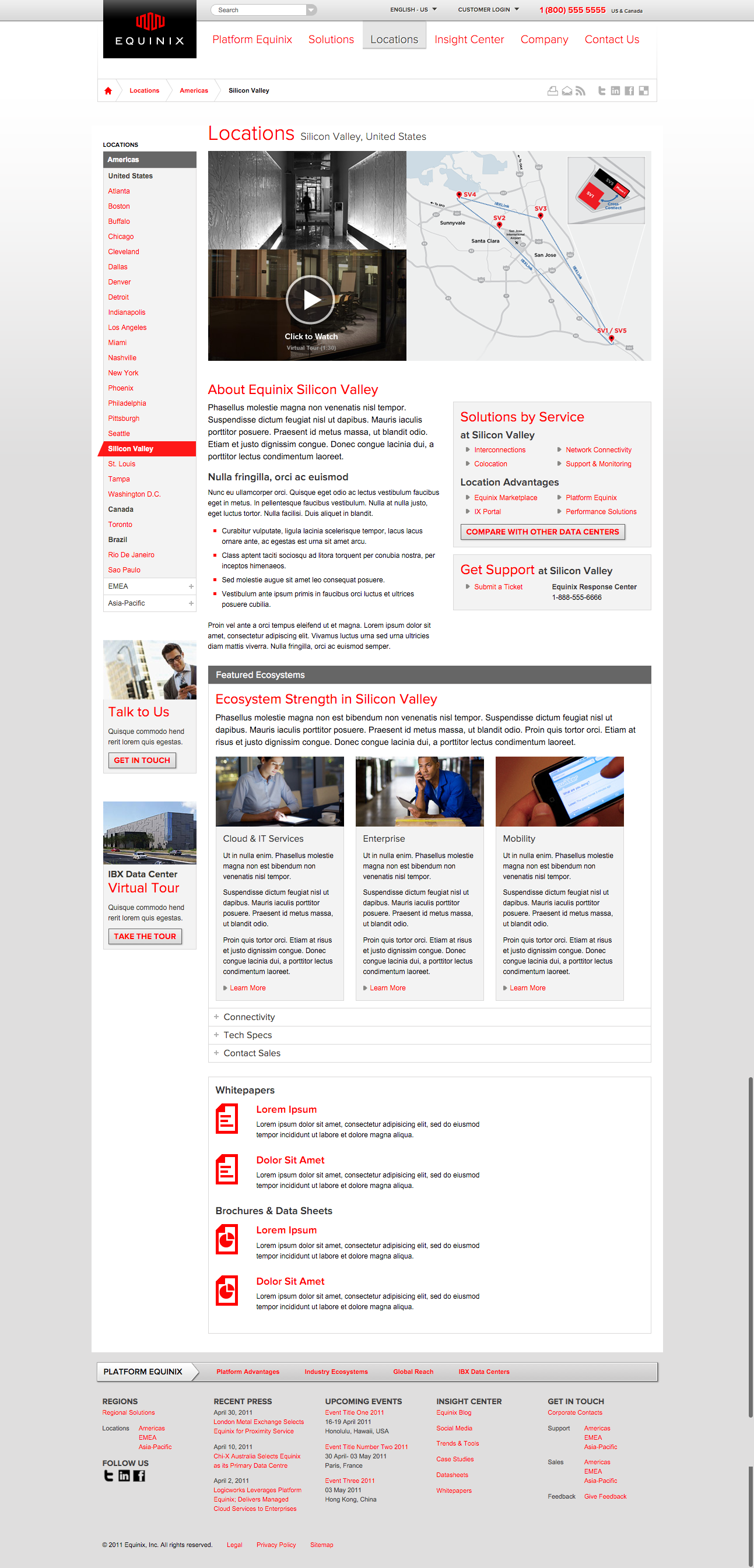 Regional Resources & News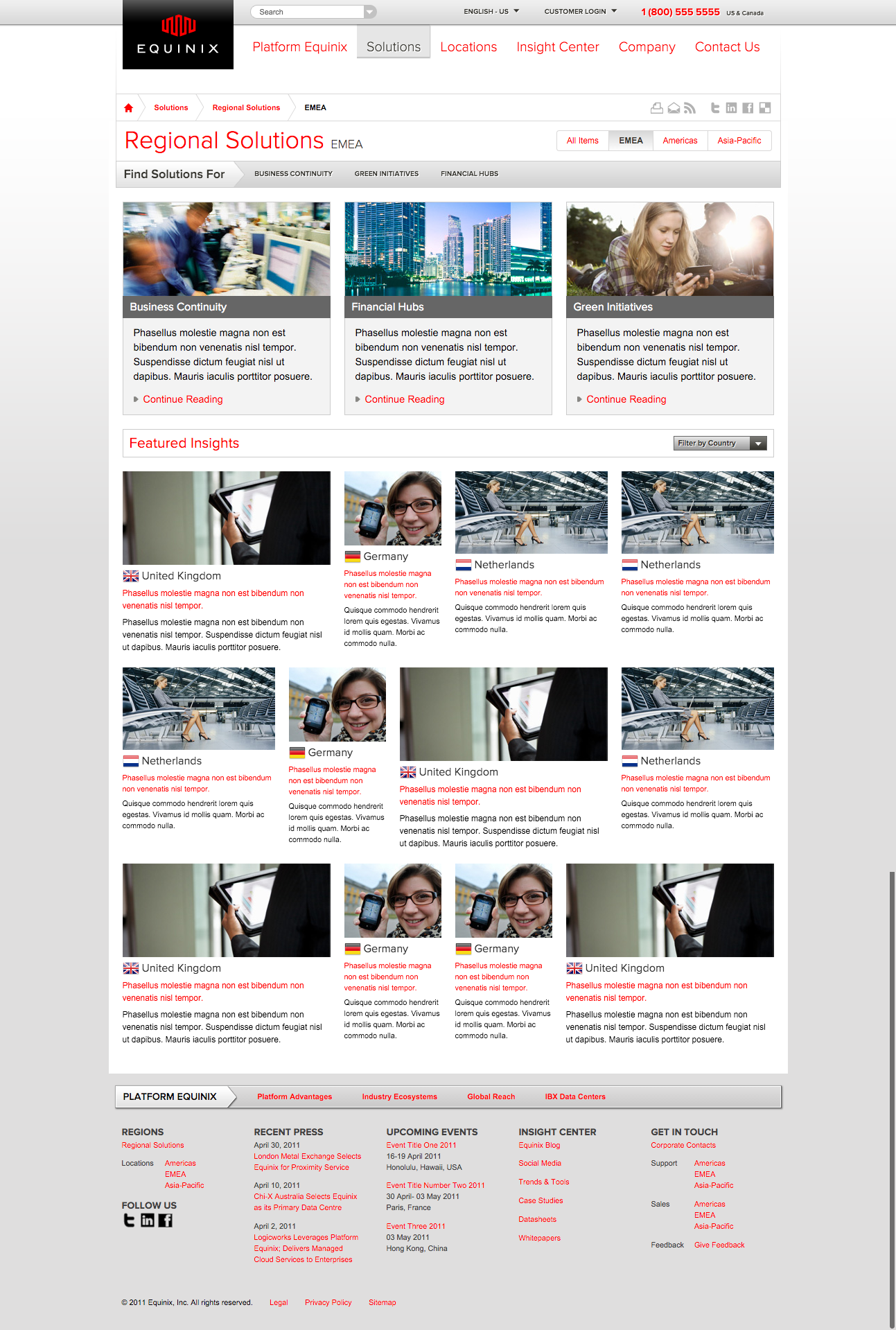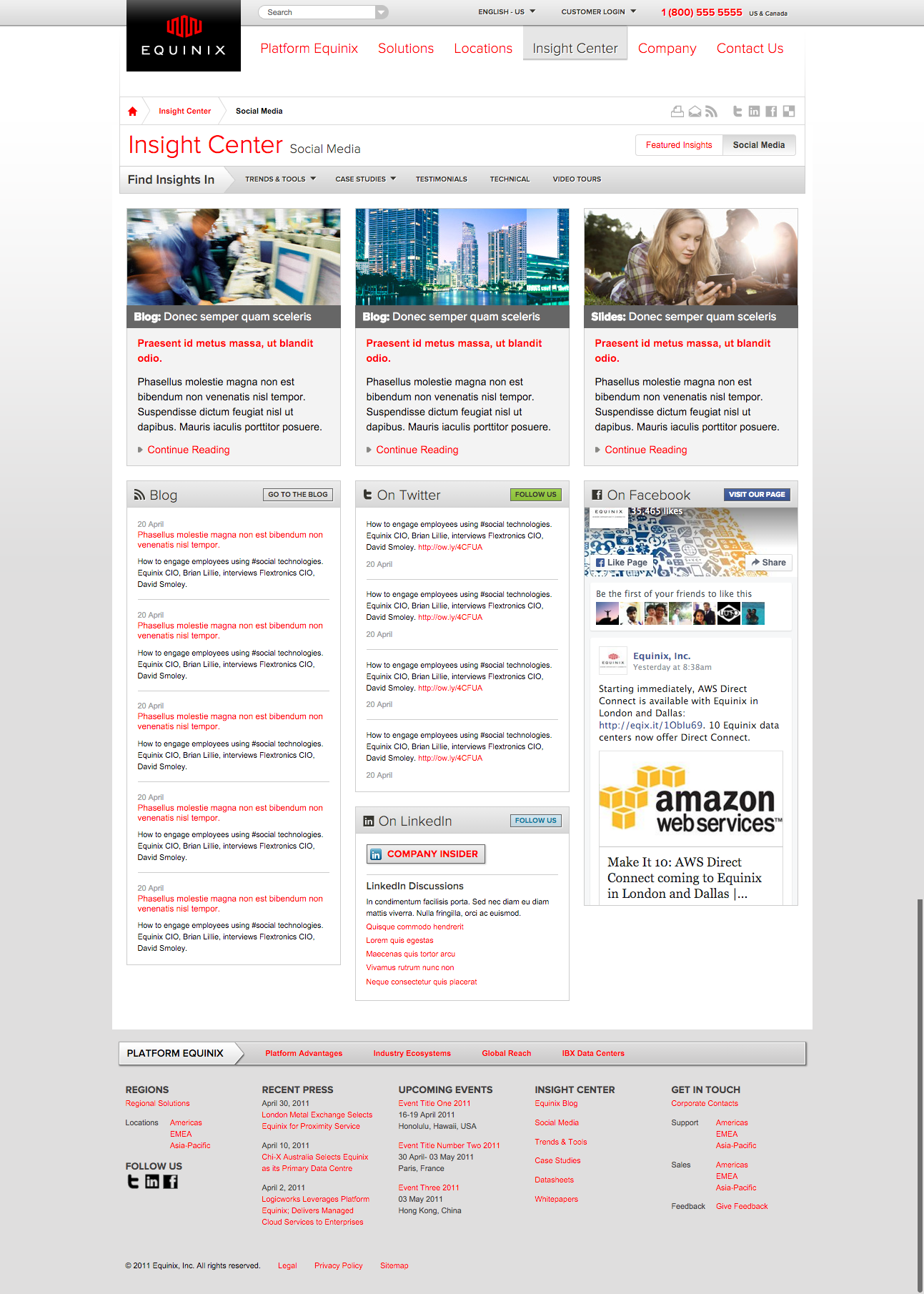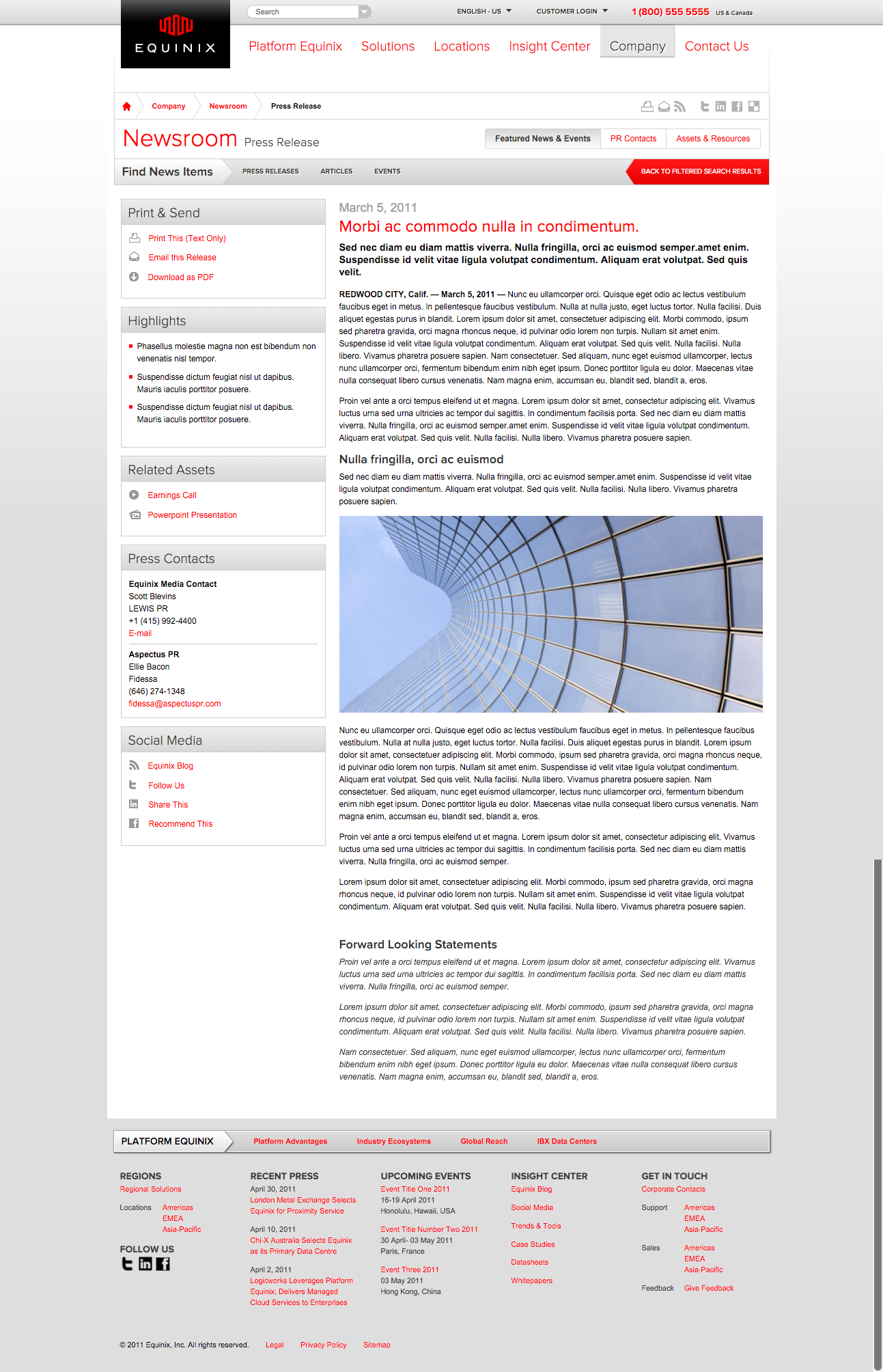 Results
After the Equinix launch, our team continued to adapt the site based on feedback and to add new features. We added new sections and created direct response campaigns to highlight different business units. And the results exceeded expectations:
1,300% increase in visitors returning 15-25 times a month
59% increase in sustained site traffic
14% increase in SEM leads
25% increase in channel leads
180% increase in lead flow
3x increase in Sales Prospect Insight Data Score
Awards
Best in Class, 2012 Interactive Media Awards
Standard of Excellence, 2012 Web Marketing Association
Aaron possesses a rare combination of business and technology insight with an uncanny eye to see experiences before they evolve. He helped realize a new digital experience for Equinix that exceeded expectations, increasing lead flow over 100%.
Carl Agers, CXO of Rauxa