Courtmatics
Company

Courtmatics

Year

2016 - Ongoing

Responsibilities

UX & Visual Design, SW Product Management, User Research, QA
Courtmatics Smart Dampener is an IOT device that attaches to a player's tennis racquet and gathers data while they practice or play competitive matches. It's more than a "Fitbit for Tennis" — it acts as a personal coach and provides tips to improve your game. We are working with professional tennis coaches and players of all levels to develop the product and refine the user experience.
This is an ongoing side-project. The product will launch around November 2016.
Research and Product Definition
Customer development and iterative UX research have been the cornerstone of our process since early in product development. We have spent several hours on and off the court working with tennis associations, professional tennis coaches and players of all levels to refine the user experience. Our goal is to create a product that does more than just provide "speeds and feeds" of a player's tennis session.
Although confidential at this point, the outcome of this research uncovered go-to-market opportunities that competitors had completely missed. We used these insights to refine our product thinking and prioritize the features that would provide our users with a meaningful repeat experience.
I introduced the team to several tools and tactics that helped us understand our customers and uncover opportunities:
Customer Interviews
Empathy Diagrams
Design Sprints
Journey Map
UI Prototyping
Iterative User Testing
A Few Key Insights
One of the first things we learned is that the raw data visualization is not enough for the players (particularly beginners) to understand how to improve their game. Instead, we worked with pro coaches to develop content that we could associate with these stats in order to provide meaning.
Players want "at a glance" feedback that they could review in between play and during water breaks. This meant that the stats needed to be presented in an ultra-simple, bright, high-contrast UI that's easy to view in sunlight, with sweat in your eyes and while wearing polarized sunglasses. The first UI I designed didn't perform well in this regard, but testing early and often allowed me to switch gears.
Goal setting was important to both players and coaches, but we found that players could only successfully focus on one goal at a time. I revised the goal setting portion of the interface to be very simple and provide quick feedback. Additionally, coaches only have 5 minutes at the end of a session to set goals with a player, so goal setting needs to be quick and simple.
Since tennis is multi-faceted, many players aren't aware of all of their strengths and areas in need of improvement. So I suggested a new section, called Highlights, where we would analyze the data and highlight aspects of their game where they were performing well, and where they were performing below their average. We have more plans for this section that will make the app an even more powerful tool.
Design Approach
Design/Development is still ongoing.
The visual design draws colors and style inspiration from looks that tennis players are already familiar with.
Contrast and clarity were the two most important considerations in choosing colors, font choices and chart styles. Players are primarily using the app on the court, for a few minutes between sessions — often in direct sunlight. The UI needs to communicate information quickly, and without ambiguity.
As with past projects, I provide prototypes and motion mockups where appropriate. With certain features, such as the syncing animation, I'll animate them with QuartzCode and check in Objective C UIViews to the Xcode project.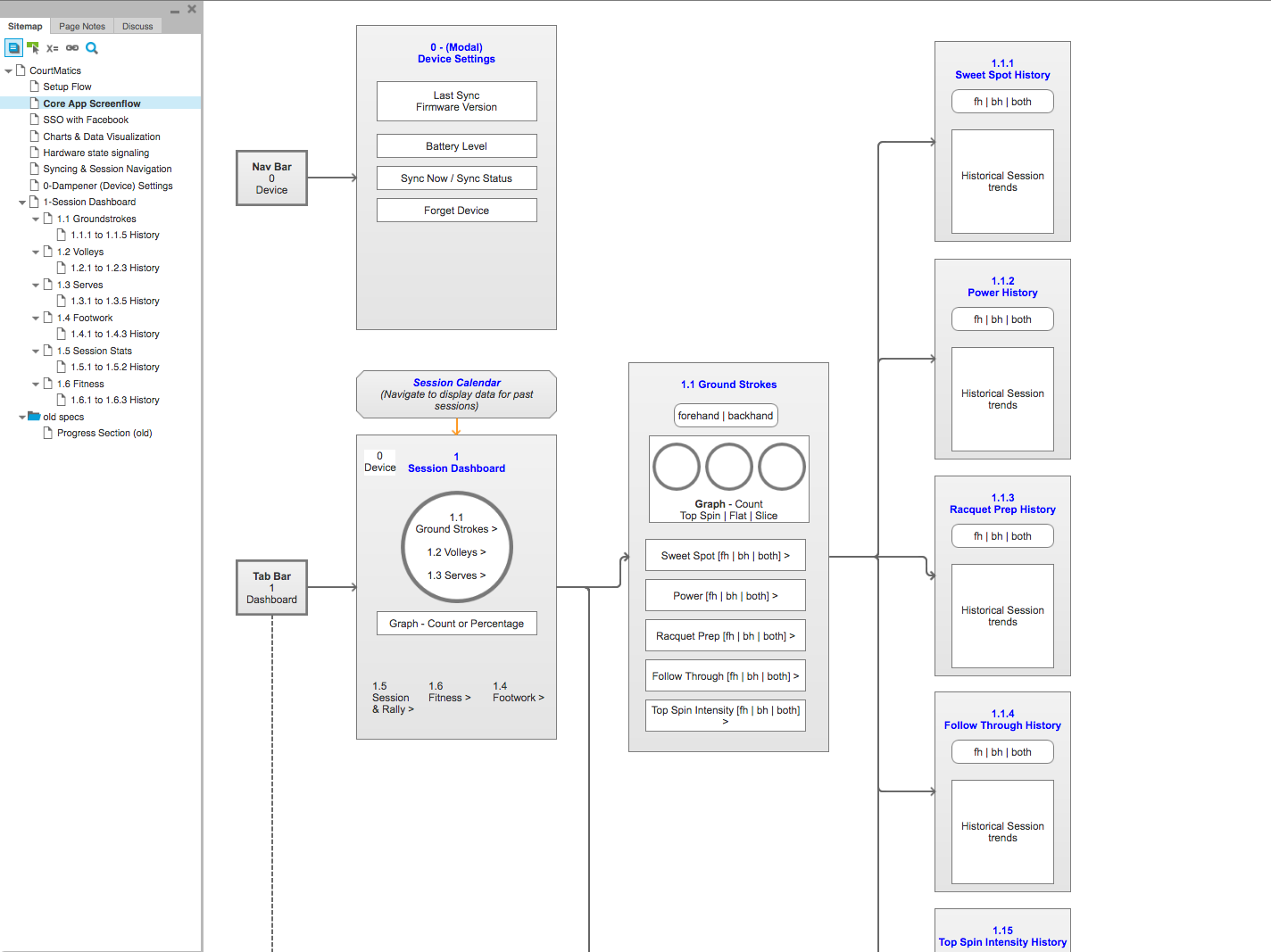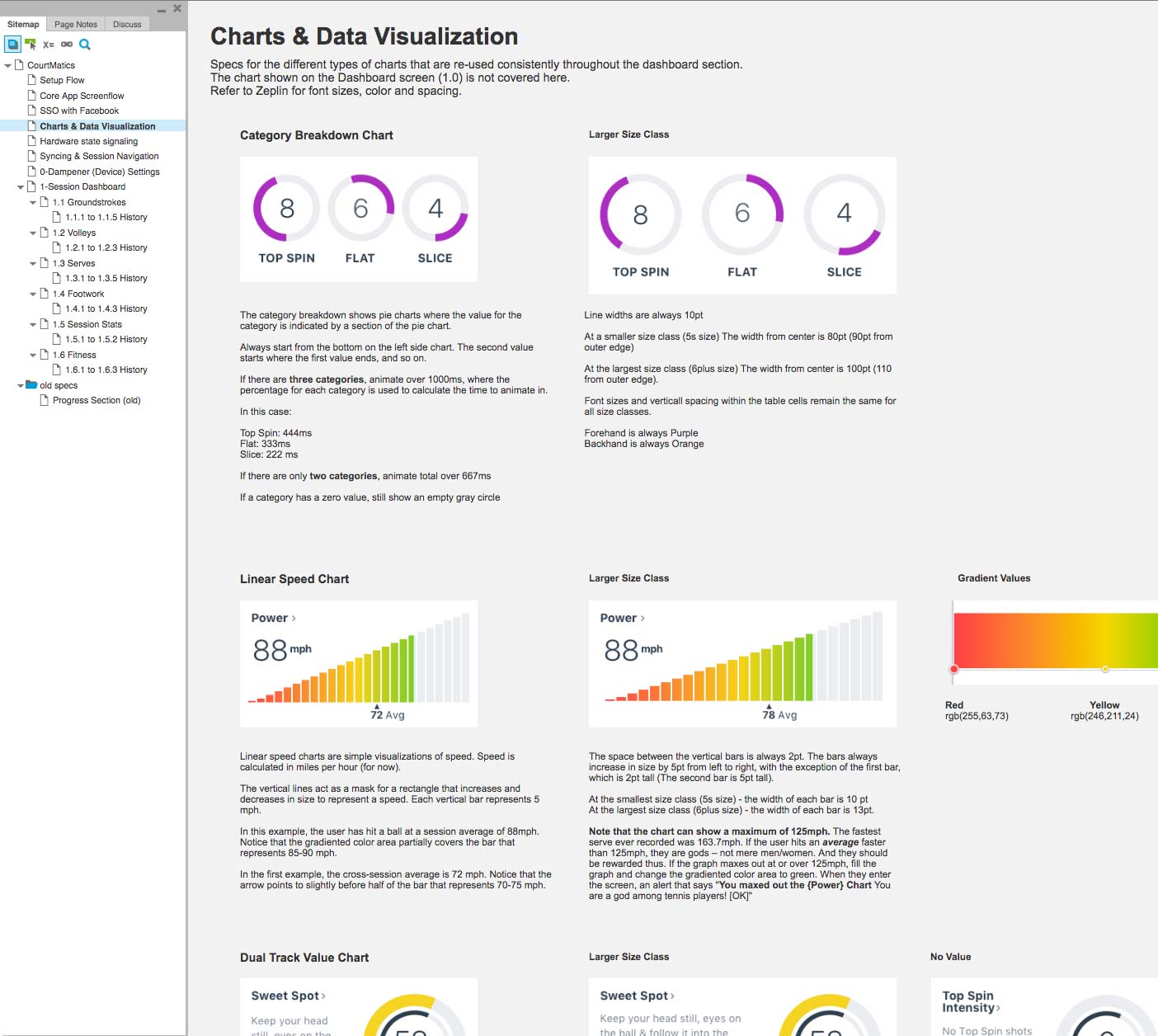 Hardware Lighting Animations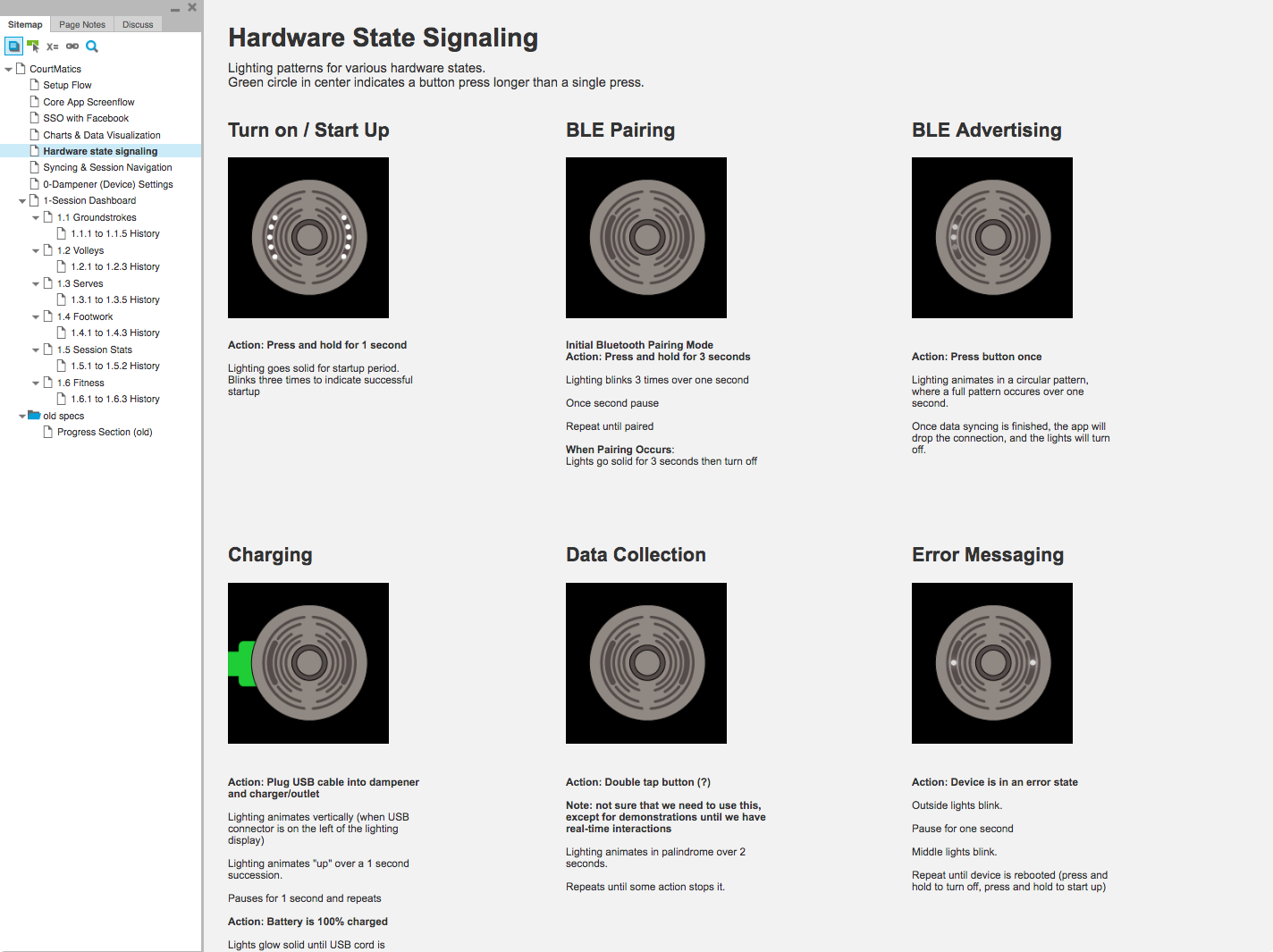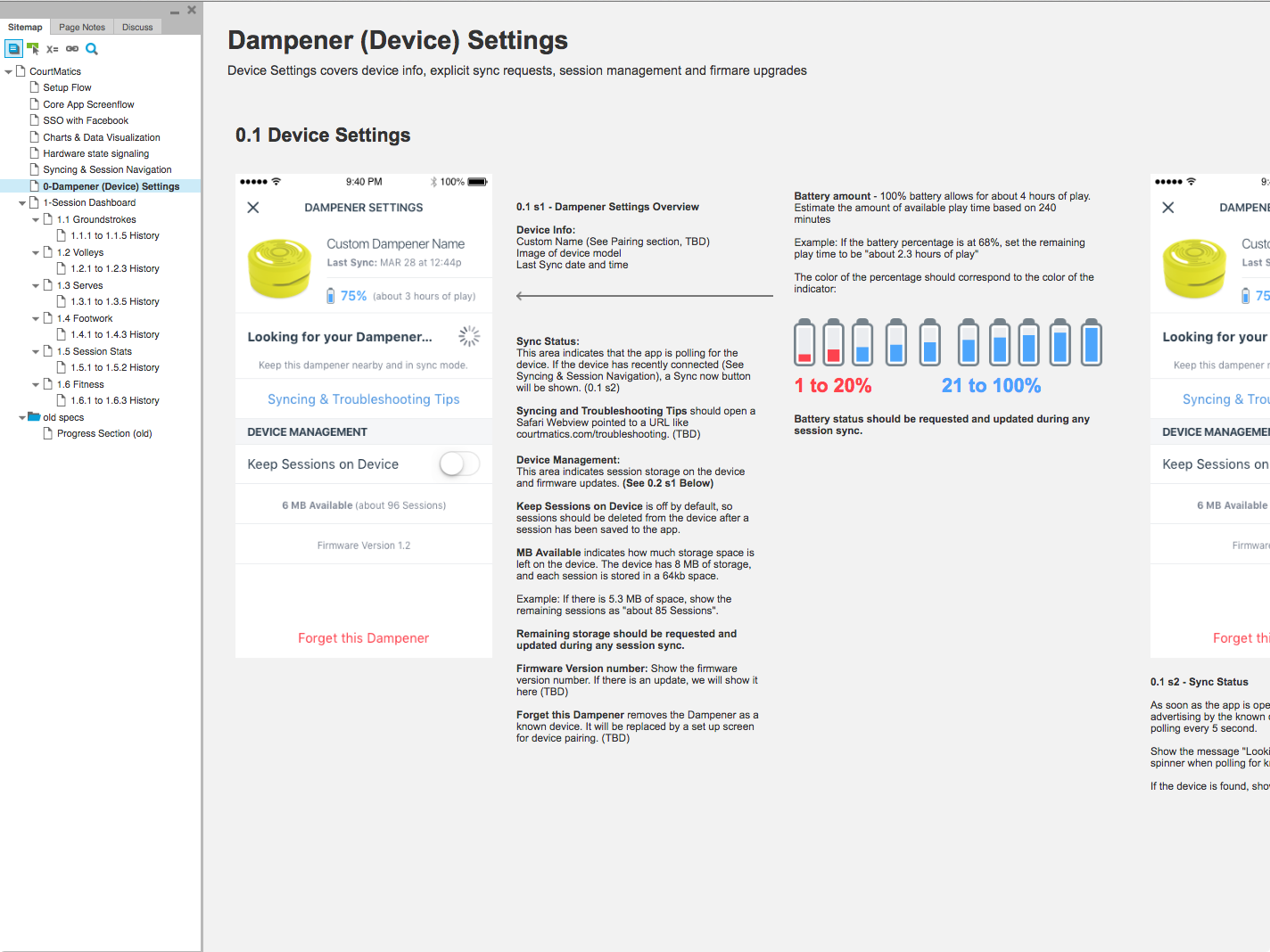 Historic Performance Specs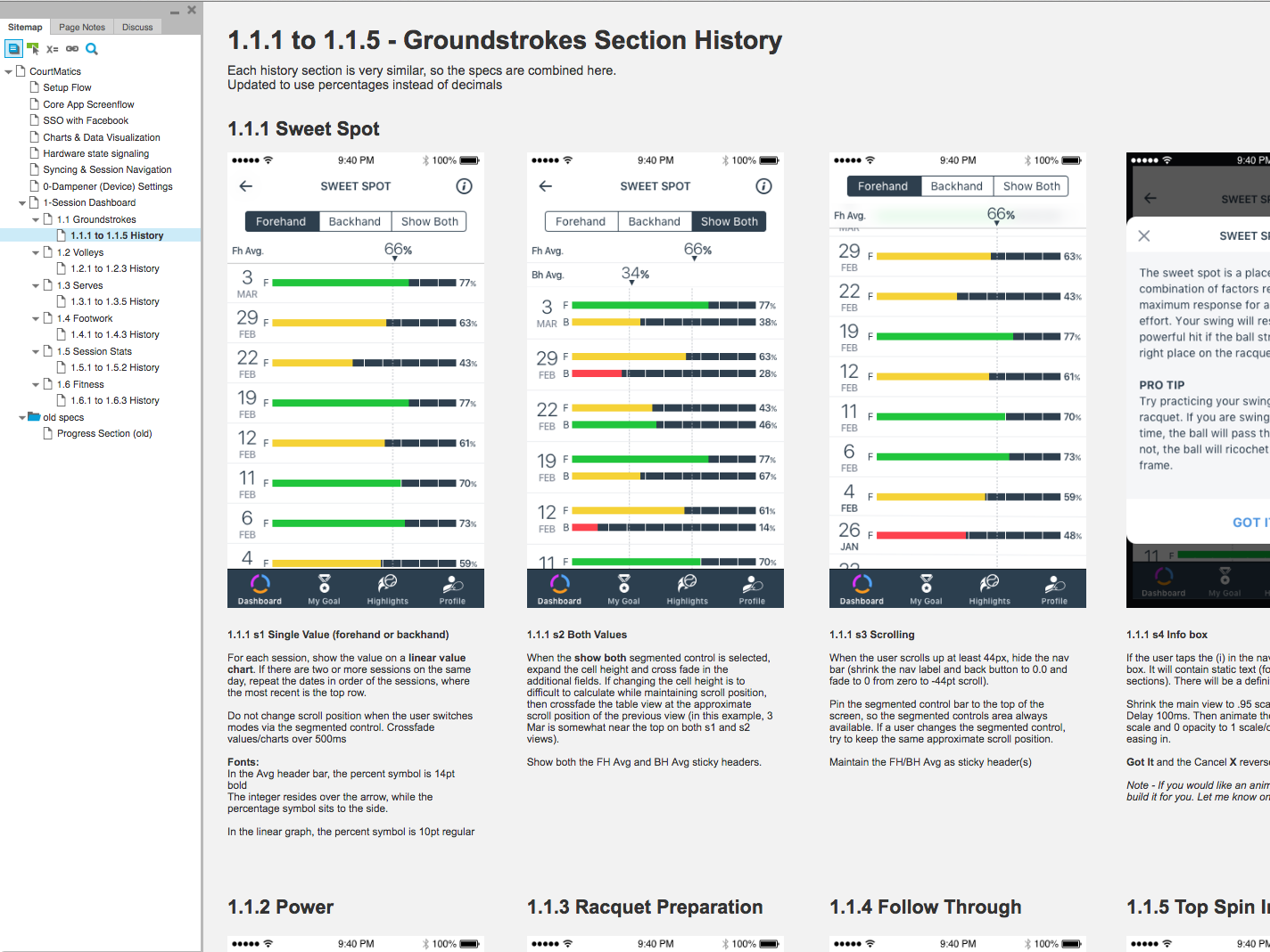 Aaron has been an invaluable member of our team. He is very diligent in every aspect of his work, starting from the exploratory stage all the way through product design and strategy.

Aaron has a very keen eye for details and an innate ability to learn the nuances that may not seem like a big deal at first, but end up making a very profound impact later on. He also has very clear vision and helped us a lot in discussions that started as ambiguous and ended up with clear direction and focus. His contribution has been above and beyond my expectations.
Andre Reznik, CEO & Co-Founder of Courtmatics